Conversations on Practicalities Through Practice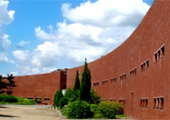 Published on: Friday, 26 March 2010
Getting on With Art is a collaboration between three of Cork's visual Arts Organisations; the CIT Crawford College of Art & Design, the Crawford Art Gallery; and the National Sculpture Factory.
This event is free and open to all. Booking is on a first come, first served basis. Advance booking for more than 5 people is recommended via gettingonwithart@hotmail.com
This artist-led seminar provides an opportunity to discuss the experiences and insights of professional artists. Through a series of presentations and conversations, participants will look at the fundamentals, benefits and pitfalls in establishing a career as a visual artist in Ireland. The seminar aims to address the practicalities of art practice, offering a straightforward and pragmatic approach to the production and exhibition of contemporary art.
Getting on With Art: Conversations on Practicalities Through Practice has invited a broad range of artists to speak about their realities of making art as professionals. Guest speakers will address a number of pertinent issues and opportunities for emerging artists, including their experiences of artist residencies, commercial galleries and artist-run exhibition spaces alongside the practicalities of sustaining an art practice in these difficult times.
These artists will offer insights into how their own research influences their approach to sustainability and how this affects their final outcomes, their artworks.
Presentations will be followed by an open-forum Q & A session, where the urgent issues of the day can be advanced head-on and where we hope the pertinent issues of practitioners today can be explored in a pragmatic manner.
Speakers
Alan Phelan (Chair), Sean Lynch, Maud Cotter, Clodagh Emoe and Edel O'Reilly
Alan Phelan
Alan Phelan's practice involves the production of objects, participatory projects, curating and writing. These all inform and contribute to an interest in the narrative potential surrounding an artwork. This can be exploited or explored from actual and historical events, ideas, things and places as well as their fictional counterparts.
Alan Phelan studied at DCU, Dublin, 1989 and RIT, New York, 1994. Previous solo exhibitions include: Irish Museum of Modern Art and Chapter, Cardiff,
2009; mother's tankstation, Dublin, 2007; The Lab, Dublin, MCAC, Portadown, 2006. Recent group exhibitions include EV+A, Limerick, 2009; Concourse Offsite, Blackrock, Dublin, Solstice Arts Centre, Navan, 2008; Feinkost, Berlin, 2007; SKUC, Ljubljana; SKC, Belgrade, LCGA, Limerick, 2006; and the Whitney Museum of American Art, New York, 2004.

He was editor/curator for Printed Project, issue five, launched at the 51st Venice Biennale, and has curated exhibitions at the RHA, Dublin, Project, Dublin and Rochester, New York. He has received numerous awards from The Arts Council, Ireland as well as a Fulbright Scholarship and a John F Kennedy Fund Graduate Scholarship. Phelan has written essays on several artists, including Tom Molloy, Abigail O'Brien and Vanessa O'Reilly. He has also had texts published in Circa, Contexts, Kunst.ee, Source and had a column in VAI VAN from 2003-06. Phelan was short-listed for the AIB Art Prize in 2007 and is represented by Mother's Tankstation, Dublin.
Sean Lynch
Sean Lynch (born 1978, Kerry) was educated in fine art at the Stadelschule, Frankfurt, and had solo exhibitions at the Gallery of Photography, Dublin, Context Gallery, Derry, Heaven's Full, London, Galway Arts Centre, Limerick City Gallery of Art, Ritter & Staiff, Frankfurt, and completed a commission with the National Sculpture Factory, Cork. He has featured in group exhibitions at the Lewis Glucksman Gallery, Cork, Irish Museum of Modern Art, Dublin, Fondazione Arnaldo Pomodoro, Milan, and Office Baroque, Antwerp. His work currently features in the touring Arts Council exhibition Noughties but Nice: 21st Century Irish Art. He is also author, editor and publisher of several books and pamphlets that focus on Irish art and architecture.
He is represented by the Kevin Kavanagh Gallery, Dublin
Maud Cotter
Maud Cotter's practice "interrogates and interrupts the traditional boundaries of sculpture, both through incorporation of common and domestic objects, and also through relationships with the broader contexts of gallery architecture.." "Her one-person shows in 2010 will include "Rumpus Room" at The Third Space, Belfast.(May 6th) 'All stuff is farce" at the Centre Culturel Irlandais.(Sept 16th) and 'Stuff' at Point B Project Space , New York.(Nov.date to be confirmed). In 2009 she has 2 solo exhibitions 'Rumpus Room' at Point B in Williamsburg, New York and 'More than one way out' at the Rubicon Gallery in Dublin, while also part of exhibitions at IMMA in Dublin and at the Lewis Glucksman Gallery in Cork.
Maud Cotter is represented by Rubicon Gallery, Dublin.
Clodagh Emoe
Clodagh Emoe (b. Dublin) is an artist based in Dublin. Her practice involves drawing, video and most recently staging to articulate a desire to approach the unknown and the esoteric. In 2004 she completed a MA (Hons. Distinction) in Fine Art at Chelsea College, London and received a BA (Hons.) in Fine Art Sculpture from NCAD. Recent projects/events include, Metaphysical Longings, National Gallery of Ireland, Mystical Anarchism in collaboration with Simon Critchley, An Exhibition in Five Chapters, CAC, Vilnius, Come Together, Douglas Hyde Gallery, Dublin, Somewhere Here, NSCAD, Canada, and Losing Ourselves, a star gazing session in conjunction with I Am Here Somewhere, solo-show at Temple Bar Gallery and Studios, Dublin. Clodagh has undertaken awarded residencies at the Banff Centre, Canada, VCCA, USA, Temple Bar Gallery and Studios, Draiocht Art Centre and IMMA
Clodagh is a research scholar at GradCAM. Indeterminacy in Contemporary Art Practice is the working title for her PhD thesis.

Edel O'Reilly
Laois born artist Edel O'Reilly began studying at the Crawford College of Art & Design in 2004 graduating with a B.A. (Hons) Fine Art specialising in printmaking and photography. Her work originates from sociological and architectural themes and often explores the city/nature duality and the ephemeral qualities of urbanism.
In addition to her visual art practice she has worked in a curatorial context and a number of collaborative projects which have been concerned with interventions with space, transforming disused or temporarily available sites in urban areas, such as The Eviction Show in April '09 and Paperback Project in July '09 in Laois.
O'Reilly is also co-founder and member of arts collective Cork Contemporary Projects who aim to provide a platform for young emerging artists as well as forum for creatives to collaborate, network and exhibit. She currently holds position of director with CCP's new artist-led gallery The Space.