Event: Full Circle Exhibition
Wednesday, 05 January 2011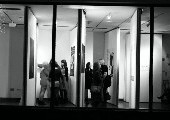 Full Circle is an exhibition of work by fourteen graphic designers, all of whom are former college classmates.
This exhibition revisits the very first project that they were given in their first year of Visual Communications in C.I.T. back in 2002. Each designer is given free rein to either tackle and put their own unique spin on, or reject and react to the classic "Black Squares Problem" in the form of a single poster. The idea behind this exhibition is to showcase how far their work has come in the eight years since they were first confronted with this brief.
Full Circle will take place from the 5th-8th of January in CIT Wandesford Quay Gallery, Wandesford Quay, Cork.

Mulled wine reception 3-5pm Sat 8th Jan, all are welcome.
http://www.facebook.com/fullcircle.exhibition
For more information, contact the team