CIT hosts 'Towards Creative Entrepreneurship Programme'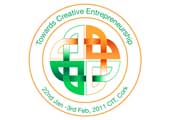 Published on: Tuesday, 01 February 2011
CIT's School of Business will host 42 students and 12 staff from various European countries participating in an Erasmus Intensive Programme "Towards Creative Entrepreneurship" (TCE). The Programme takes place from 22nd January to 3rd February 2011 in CIT with the stated aim of promoting business acumen and entrepreneurial know-how among students intending to pursue careers in the creative industries.

During the twelve days students from various background e.g. music, fine art, design, multimedia, photography, ceramics, public relations, business, and business information systems will come together and learn about entrepreneurship.
From the outset the students will work in small multi-discipline teams generating business ideas with a view to developing a new product or service in the creative industries sector to sell to paying customers. Students will learn by doing through a series of interactive lectures, group discussions and workshops. At the end of the programme they will sell their product/service to the people of Cork City.
During the programme students will have access to mentors to offer advice, suggestions and general guidance. The mentors will comprise the programme's lecturing team and/or creative entrepreneurs.
For most of the students it will be their first time in Cork and Ireland. They will experience some Irish culture by attending a Ceili, Gaelic match, a walking tour of Cork City and a visit to Blarney and Kinsale.
The Creative Industries is one of the fastest growing sectors in the European Economy and it is important to promote self-employment as an option to students graduating from the creative arts.

The underlying principle of TCE is that entrepreneurship is a matter of attitude and a way of doing one's work and earning a living. The language of the programme will not feel alien to students working in the creative field. The idea of selling one's expertise, commercialising one's skills and finding customers and markets to sell to does not automatically mean destruction of artistic expression or creative intent.
Combining creativity and entrepreneurship, combining the traditional arts education and training of entrepreneurial skills, helps the participants gain totally new perspectives to both topics.

For more information about the programme, log on to www.tce.ie