2010 Genesis Showcase & Awards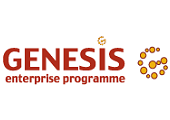 Published on: Thursday, 20 May 2010
Delivering our Future: 17 New Irish Companies Launch at 2010 Genesis Showcase & Awards
On the 29th March Micheál Martin, T.D., Minister for Foreign Affairs launched 17 new Irish Companies at the 12th Annual Genesis Enterprise Programme (GEP) 2010 Awards & Showcase, at CIT.
Congratulating the new companies on achieving their first year in business, Minister Martin said: "These companies show that there are significant business opportunities for new and innovative business start ups in niche areas across life sciences, bio-tech and medical technology, food, telecommunications, internet services. You are the companies that will create and deliver the higher end, higher value jobs, of the Smart Economy. As entrepreneurs, you have a key role to play in the future growth and prosperity of the Irish economy and supporting new entrepreneurs through initiatives such as the Genesis Enterprise Programme will ensure that emerging technologies and business ideas, with export potential, become a commercial reality."
This year, 17 new companies completed Genesis and the industries that they are pursuing are varied – energy, international services, food, electronics, telecommunications, electronic learning, software applications, ergonomic furniture design and a diving operation. At the end of each year's Genesis programme, the participating businesses are presented to the public in a showcase exhibition with the achievements of particular businesses in reaching commercial milestones being recognised in an Awards ceremony.
| | |
| --- | --- |
| | Minister Martin and Denise Kennedy, Programme Manager, Genesis, with John Feeney, dBm Technology Ltd, the winner of Genesis Emerging Business of the Year and a cheque for €2,500. dBm Technology offers businesses a unique solution to achieving affordable, high quality IT and Telecoms services (www.dbmtechnology.com) |
| | The Business Development Achievement Award and €1,250 went to Garry Bennett of MyTown.ie. which provides a local community website for every town in Ireland allowing users to find local information and interact online while providing businesses with a channel to advertise to their local target market (www.mytown.ie). |
| | The Market Entry Success Award and a prize of €1,250 went to Conor Buckley of LongshipE Energy Ltd. Longship provide complete outsourced energy management services to commercial energy users who are dissatisfied with their energy costs and current energy efficiencies. Longship now has customers in Ireland, Poland and the United States (www.longshipe.com) |
| | Minister Martin speaking with Michael O'Neill, Irish Atlantic Salt Ltd. Michael won the Business Plan of the Year and €1,250. Based on the Beara Peninsula in West Cork, Irish Atlantic Salt Ltd, produces the only Irish made gourmet sea salt range of products (www.irishatlanticsalt.com) |
| | The Award for Opportunity Investigation and €1,250 went to Anne Ferguson, Ocean Addicts Ltd. Ocean Addicts operate Ireland's only Dive Liveaboard operation allowing holiday visitors to enjoy scenic and wreck diving along the Irish Coast while enjoying the convenience of travelling and on board accommodation in their ship with on shore evening entertainment (www.oceanaddicts.ie) Anne is pictured here with Graham Ferguson. |
| | Minister Martin with Simon Dennehy of Perch Dynamic Solutions. Simon was chosen for a special "Entrepreneurial Leadership" Award. This Award is judged by the Genesis participants themselves for the person/team whom they felt had most demonstrated entrepreneurial ability, leadership and co-operative learning spirit espoused by the Genesis Programme. Simon will receive a trip to Dublin for the Ernst & Young Entrepreneur of the Year Awards ceremony in September 2010 (www.perch.ie) |
| | Minister Martin speaking with Denise O'Callaghan, Delicious gluten free bakery, winner of the Best Stand. |
Over 200 people attended the 2010 Genesis Showcase & Awards drawn from the regional development bodies, current and past Genesis participants, venture capitalists, private investors, the higher education community and the wider business community in the South West region, as well as local and national press.
The Adjudication Panel for the 2010 Awards was composed of Kieran Moynihan, Tivoli Vice President & CTO Telecoms, IBM Software Group; Frank Madden, Managing Director, Crest Solutions; Ian Venner, Director, Ernst & Young; John O'Doherty, Regional Director, AIB; Colin Walsh, Group Marketing Manager, Thomas Crosbie Holdings Limited.
| | |
| --- | --- |
| | Michael Delaney, Vice President for Development, CIT; Dr Paddy Caffrey, Chairman, Governing Body, CIT; Micheál Martin TD, Minister for Foreign Affairs; presenting the 2010 Genesis Alumni Award to Pat Ryan, Abtran (Genesis 1998); and Denise Kennedy, Programme Manager, Genesis. |
The 2010 Genesis Alumni Award was presented to Pat Ryan of Abtran (www.abtran.com). The Award is presented annually to an alumnus of the Genesis programme who has made substantial achievements in their commercial field or has contributed in a significant way to the economic development of knowledge-based businesses in the region. 12 years ago, Pat Ryan decided to leave a multinational to start his own business. That decision led him to create Abtran with co-founders Michael and Gerard Fitzgerald, a company that has become Ireland's largest indigenous business process outsourcer with projected turnover in excess of €40 million in 2010. At the start of that path, Pat participated in the 1998 Genesis Enterprise Programme. According to Denise Kennedy, Genesis Programme Manager, "Pat is recognised in this year's Genesis Alumni Award as an example of how an Irish business can be started and organically grown into an international company, in partnership with co-founders, with a clear focus on profitability and a commitment to reinvest in Research & Development, thereby achieving global competitive advantage against lower cost economies. Along the way, Pat has always been extremely generous in his encouragement and help to other founders in new start ups in the region."
Publicly funded by the Department of Education & Science, the Genesis Enterprise Programme is a 12 month rapid incubation programme designed to nurture, support and develop entrepreneurs starting new knowledge based companies in the South West Region. During the last twelve years, Genesis has supported over 192 people and teams in starting their businesses. More that 70% of the start-up businesses are in operation today employing more that fourteen hundred people. Over 50% of the businesses are trading internationally. 40 businesses have gone on to be designated "High Potential Start Ups" by Enterprise Ireland. Genesis' success was recently recognised when it was singled out from more than 330 projects across 28 European countries to become one of just 12 short-listed nominees for the 2010 European Enterprise Awards which will be held in May in Madrid.
The 2010 Genesis Showcase and Awards are supported by the sponsorship of Cork Institute of Technology, Enterprise Ireland, Cork County & City Enterprise Boards, Ernst & Young and Ronan Daly Jermyn. Media partner for the Event was Thomas Crosbie Holdings.