CIT Student Damien Dennehy wins two major design awards at the Universal Design Grand Challenge Awards Competition 2016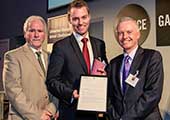 Published on: Monday, 30 May 2016
Congratulations to Damien Dennehy (CIT's first ever finalist in the Universal Design Grand Challenge Award Competition ) who has won not one but two major design awards - the Enterprise Ireland Universal Design Commercialisation Award and the Universal Design Technology Award!

The Universal Design Grand Challenge Awards Competition (UDGC) Finals, run by the the Centre for Excellence in Universal Design (CEUD) at the National Disability Authority (NDA) and supported by Enterprise Ireland, is a very high profile event. The UDGC promotes and awards excellence in student projects that feature solutions that work for everyone and is open to third level students in their final two years of study, postgraduates and recent graduates to enter their best student project to compete for the National Universal Design Student Awards.

A Video to illustrate the development / testing of Damien's project "Advanced Hydro Systems - the Automated Flood Defence Barrier" can be viewed here.

Following first-hand personal experience of recent urban major flooding events, Damien undertook the development of a novel pre-installed self-deploying flood defence barrier to automatically detect and prevent flood water ingress through standard doorway aperture. Current doorway flood defence barriers require manual application, necessitating the presence of, and prompt action from, competent individual/individuals during flood events. Manual application requires continuous monitoring of flood warnings with major consequences arising from monitoring system failure, personnel non-availability or barrier equipment misplacement. Current devices are difficult to lift/install, particularly for the elderly or disabled.

Damien undertook comprehensive literature research of current solutions, technologies and methodologies and an in-depth review of riverine development of the severely affected urban commercial region and market research into customer functional requirements. A range of novel design solutions were conceived and assessed by Damien. A design approach, based on rigorous safety and sustainability criteria, was adopted to devise and advance a novel optimal solution. Damien utilised advanced finite element analysis, material optimisation methodologies and control hardware/software development to achieve a total solution.

Damien's developed Advanced Hydro Systems doorway flood barrier system incorporates novel water detection sensor technology. Safety features incorporated by Damien into the Advanced Hydro Systems include manual over-ride for ease of egress in emergencies and application of infra-red sensors to detect people and obstructions and prevent and abort deployment in unsafe circumstances.

Damien manufactured, assembled and commissioned his Mark 1 prototype automated flood defence barrier and undertook extensive testing on the Advanced Hydro Systems doorway water barrier in terms of operation and safety. Damien's developed doorway flood barrier system incorporates novel water detection sensor technology, self-deploys automatically during flood events and provides text alert notification to householder/business owner with potential to obviate major loss/damage.

Damien has commenced commercialisation investigation of the novel automated barrier system.

Further details of Damien's project and the Universal Design Grand Challenge Award Competition Finals can be found at: https://universaldesign.awardsplatform.com/gallery/oYBYwZrx/JjKZMPdE and http://universaldesign.ie/Awards/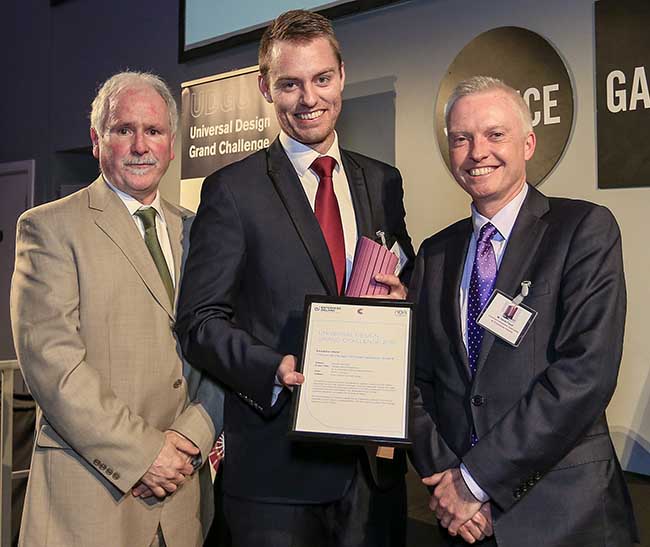 Damien Dennehy with Mr David Flood, Enterprise Ireland; and Dr Gerald Craddock, Centre for Excellence in Universal Design National Disability Authority.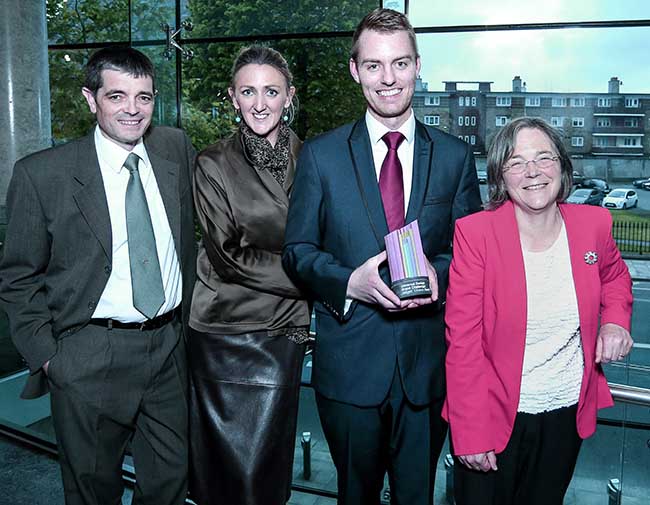 Damien Dennehy with Technology Award Judges Declan Brady, President, Irish Computer Society; Joan Mulvihill, CEO, Irish Internet Society; and Professor Jane Grimson.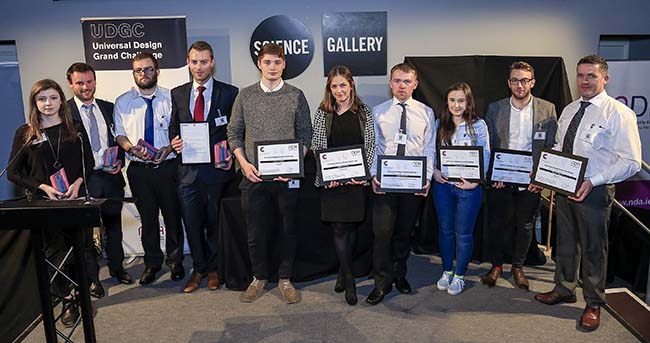 The National Disability Authority Universal Design Grand Challenge 2016 Student Awards at the Science Gallery, Pearse street, Dublin 2.
Image Credit: Conor Ó Mearáin