Last chance to visit exhibition of Chinese inspired art @ the Wandesford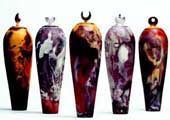 Published on: Sunday, 05 May 2013
For more details on the exhibition visit www.bricksintherain.com

CIT Wandesford Quay Gallery location

A number of Irish ceramic artists undertook a 5-week residency at Fule International Ceramic Art Museum, in, China where they created artworks, using local materials and facilities. Their creations were then put on display, ensuring a permanent presence in China - an extraordinary opportunity for the group and for the profile of Irish Ceramic Art, some of these works now featuring in "Bricks in the Rain" a display of ceramic sculpture, archive, film and sound, which runs at the CIT Wandesford Quay Gallery, Cork 6th April to 9th May 2013.

The group includes some of Ireland's foremost ceramic artists; Sara Flynn, Frances Lambe, Michael Moore, Laura O'Hagan, Neil Read, Sinéad Glynn, and Kathleen Moroney. Also featured is the work of three Swiss artists Christine Aschwanden, Gabrièle Gisi and Eva Vogelsang, who they met in China. Their combined artworks respond to and reflect the extraordinary and international flavour of the residency.

Journalist and writer Eleanor Flegg accompanied them to China, and working with sound-maker Declan Ó Cualáin and film-maker Andrew Standen-Raz has combined archival interviews, film and sound recordings which add a creative twist within the show. The curator Hilary Morley, has endeavoured to marry this unique combination of media into an unforgettable Irish/Chinese cultural experience.
| | | |
| --- | --- | --- |
| Alex Scott | | Andrew Standen-Raz |
| Francis Lambe | | Francis Lambe |
| Gabriele Gisi | | Mandy Parslow |
| Tina Byrne | | Michael Moore |