First National College Awareness Week 24th - 30th November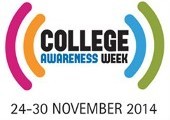 Published on: Friday, 24 October 2014
This year marks a very special occasion – the launch of a national campaign called College Awareness Week (www.collegeaware.ie) which will be held from 24th - 30th November.
The campaign encourages individuals and organisations to spread the word that going to college and having a post-secondary plan is both important and achievable. The campaign is being endorsed widely by over twenty national agencies, including the Department of Education and Skills, the National Office for Equity of Access to Higher Education, St Vincent de Paul, IGC, NAPD, and IBEC.
The goals of this national campaign are:
Celebrating the importance of going to college,
Showcasing local role models who have gone to college,
Creating a college-going culture in your community or organisation,
Helping students to become college-ready,
Supporting an increase in the number of students who progress to college.
While College Awareness Week is a national campaign, it is essential that activities focus specifically on the communities that experience low rates of participation in college. Cork Institute of Technology is hosting a number of events throughout College Awareness Week. Information on these events will be posted as soon as details are confirmed.
For further information, please check out www.collegeaware.ie or contact kathleen@collegeaware.ie.