Drawing & Painting – Non Accredited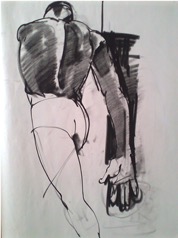 A course for beginners and those with some experience who wish to improve their drawing and painting skills in portraiture and the full figure. This course deals with improving visual concentration, composition, tone and technique.
Using a variety of mediums, they will explore the world of drawing and painting with a model as the subject. The course begins with the essential practice of drawing and gradually leads to painting in acrylic or oil.
Students will be encouraged to explore a personal visual language through their chosen medium.
Tutor Profile
Eileen Healy is an established figurative artist based at Backwater Studios. A firm believer in the practice of working from life she regularly works from the model in her studio. She has been included in many high profile exhibitions including Arnott's Portrait award and RHA annual show. Her artist residencies include Students arts league New York and Tyrone Guthrie Centre. She has taught several drawing workshops both in Ireland and abroad.
Tuesday & Thursday 6.30 – 9.00pm Course Fee: €480
All courses will run subject to minimum enrolment.