CIT Student Inc.
Student Inc., Programme - Summer 2016
Over the summer of 2016, 11 ambitious students embarked on developing their highly innovative projects. The students varied from many different courses such as Culinary Studies, Hospitality Management, Early Childhood Studies, Mechanical Engineering, Multimedia and Biomedical Engineering. The projects ranged from Pumpkin Pie to Virtual Reality. This Programme was led by student Interns Michelle Dorgan and Stephen Downey. Both Michelle and Stephen aided the budding entrepreneurs to expand and grow their idea.
Each project was awarded with €4,000 seed funding (provided by CAMMS, Enterprise Ireland and the Local Enterprise Offices) so the students did not have to depend on a part-time job for financial support. This funding also assisted with capitalising certain elements of their projects to determine their feasibility. In addition to this support, The Rubicon Centre and The Hincks Centre of CIT provided a wealth of mentoring.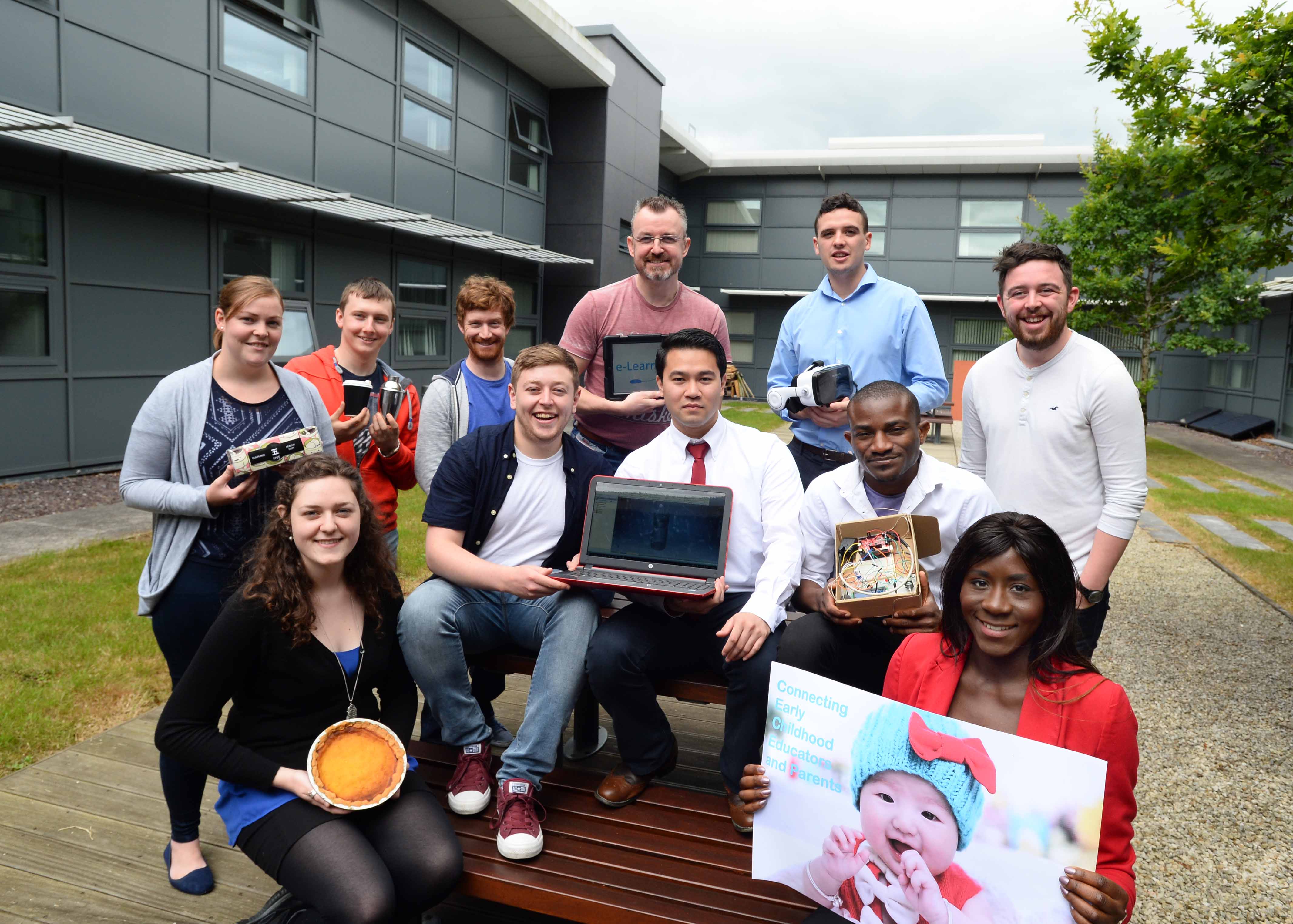 (Back row from the left) Eimear Spillane, Sean Mannix, Ruairi Murphy, Robert Quinlan, Craig Fleming & Donal Lynes.
(Front row from the left) Emilie-Kate O' Mahony, Eoin Mccarthy, Min Myat Khaung, Muideen-Ajayi Taiwo & Wendy Oke.
Student Inc., Programme - Summer 2015
Over the summer months nine student entrepreneurs working on seven projects crossed over to the Rubicon Centre to begin Cork Institute of Technology's Student Inc., Summer Programme. Student Inc., supports student entrepreneurs at CIT. The 2015 participants are from a multitude of undergraduate courses in CIT including Culinary Arts, Sustainable Energy Engineering, Craft Technology with Business, Hospitality Management, Mechanical Engineering, Biomedical Engineering and the Bachelor of Popular Music from CIT's Cork School of Music. The programme is led by student enterprise Interns Michelle Dorgan and Wesley Connolly Tong and they play an important role to guiding these student entrepreneurs to develop and excel.
Each budding entrepreneur receives €4,000 to fund their business (business expenses, equipment and a wage to offset a summer job) as well as a fully serviced office at CIT's and Ireland's premier incubation centre, the Rubicon Centre. The programme offers the participants training and workshops in various aspects of business start up (Service Design, Marketing Research, Funding etc.) to ensure they are well informed in any decision they make. They also receive mentoring sessions on a one to one basis. Student Inc., has been accredited academically so upon completion each participant will receive five academic credits at level 8 for the work they complete throughout the summer with their final evaluation in the form of a presentation on September 4th 2015.
Student Inc., was generously funded by the School of Business, the School of Engineering, Crawford Art College, CAMMS, Clean Tech and Landmark Media with the office space and staff expertise sponsored by the Rubicon Centre. Training and additional supports are provided by staff of the institute. Mentors were supplied by John McSweeney of the Small Business Advice Programme. The programme's funding has continued to increase from previous years which allows us take on more student entrepreneurs and develop the CIT entrepreneurial graduate! Stephen Downey went onto become the Enterprise Intern in the Rubicon Centre for two years. Vincent Forde went onto winning the Prize for Innovation for 2016. School of Music graduates Barry Mangan and Sebastian Schneider continued onto developing their own music business Spotlight Events and Groove Collective. Steven Williams took part in the Irelands Best Young Entrepreneur.
Don't just leave college with a Degree, leave college with a Degree and a Business.
2015 Programme Participants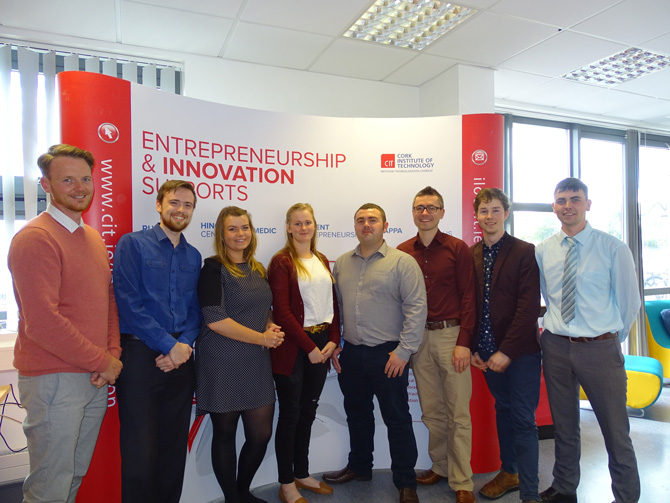 (Left to right) Vincent Forde, Stephen Downey, Kelly Lane, Claire McAuliffe, Barry Mangan, Sebastian Schneider, Timothy Norton, Steven Williams and Phil Audet(Absent).
2014 Programme Participants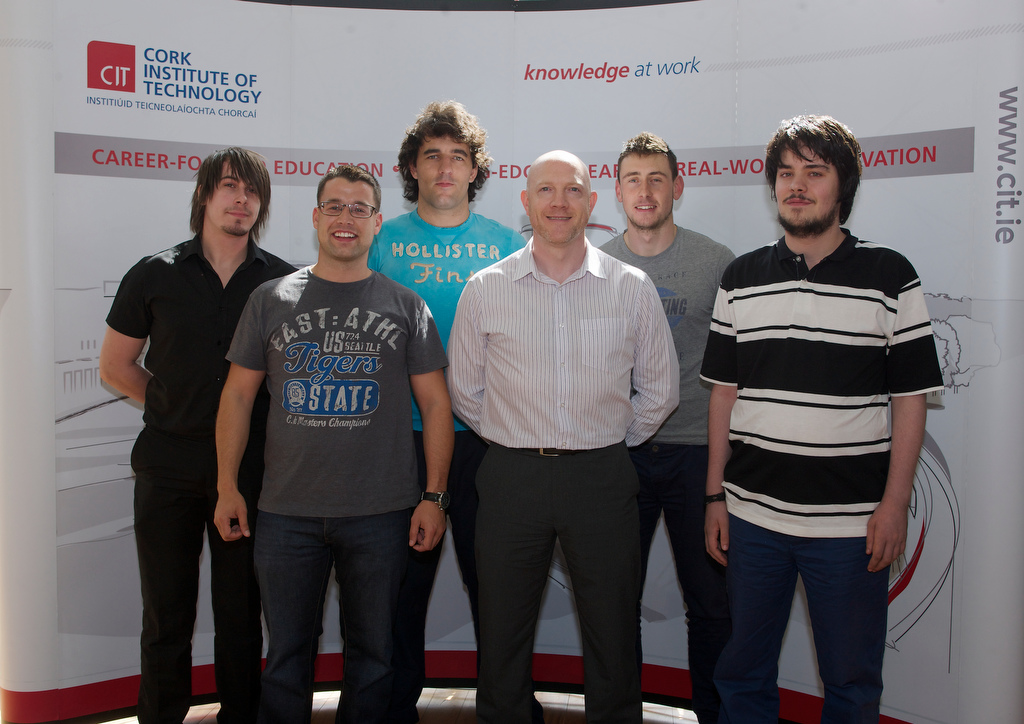 2013 Programme Participants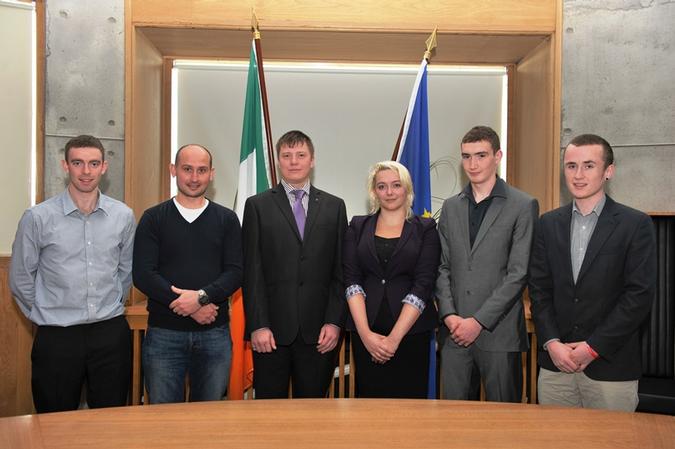 2012 Programme Participants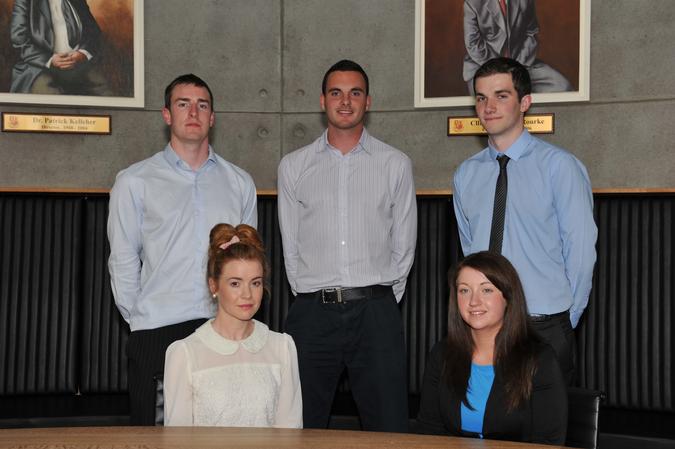 Contact
Carole O'Leary
Industry Liaison Manager
Tel: +353 (0)21 4326697
Email: ilo@cit.ie
The are no Links added yet