CIT Open Day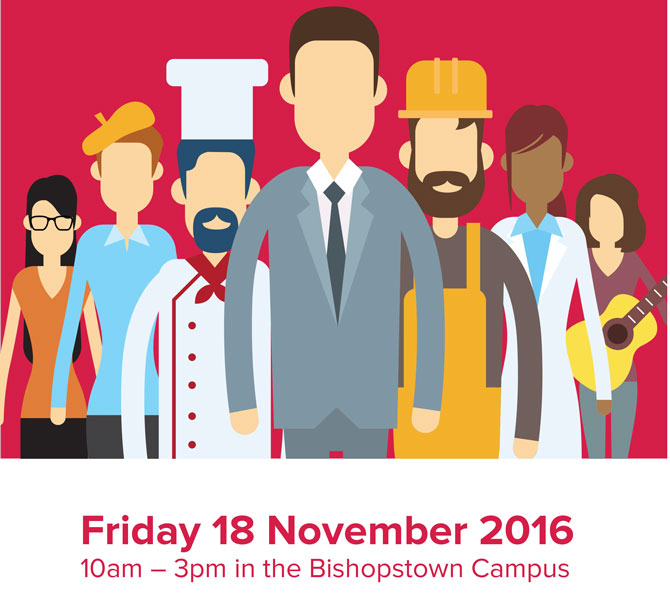 Dates for your Diary
18th November 2016
CIT Bishopstown Campus, Bishopstown, Cork
CIT Crawford College of Art & Design, Sharman Crawford Street, Cork

19th November 2016
CIT Cork School of Music, Union Quay, Cork
CIT Crawford College of Art & Design, Sharman Crawford Street, Cork
► Cork Institute of Technology Open Day will take place on Friday 18th November on its Bishopstown Campus from 10am - 3pm.
► For students interested in attending CIT Crawford College of Art and Design (CCAD), our Sharman Crawford Street Campus will be open to visitors on Friday 18th November from 10am - 4pm and Saturday 19th November from 10am - 3pm.
► For students interested in attending CIT Cork School of Music (CSM), our Union Quay Campus will be open to visitors on Saturday 19th November from 10am - 3pm.
This is the ideal time for prospective students, and their parents, to sample the wide range of courses and facilities on offer. CIT offers seventy nine CAO course options for entry 2017 and CIT is an exciting place to be for Third Level students.
Over the course of the day, we will be holding an extensive range of activities which will be particularly beneficial to students selecting higher education courses and planning their future careers. The main features of the Open Day will be a Careers Exhibition and a series of information sessions, workshops, demonstrations, exhibitions of student work and laboratory visits that will take place in the various departments across the three campuses. Students will have the opportunity of meeting with lecturers who will answer any queries and current students will also be on hand to recount their own personal experiences and offer advice. The visiting public will also have the opportunity of seeing the extensive facilities available in CIT including extra-curricular activities which include "the best on-campus sports facilities in the country". Organised tours will also be available in order to allow students to get a feel for the CIT campuses.
Brochure correct at time of print, subject to change. Please see information stands for any updates.
Student Engagement Office
The Student Engagement Office would really like to meet with you, Parents and Guidance Counsellors to let you know what we are doing to help students transition successfully into first year in CIT.
Join us for a tea/coffee from 12 to 1pm in Meeting Room 2, second floor, Student Centre to hear about our range of offerings which are designed to enhance the first year student experience. These include the Good Start Programme, Academic Success Coaching, sparq at CIT, PALS (Peer Assisted Learning and Support), Academic Learning Centre (ALC) and Transition to CIT projects. The Student Engagement Office works with academic faculty and Student Services to improve student engagement, progression and successful graduation in CIT.
Competition Winners
Congratulations to the following students who have won a CIT Hoodie in our schools competition.
We will have additional competitions at the CIT Open Day and see our Facebook page for additional information on the day.
Joel Abraham, 4th Year, Colaiste an Spioraid Naoimh
Shane O'Brien, 6th Year, St. Colmans Midleton
Jerome Kelleher, 5th Year, Ballincollig Community School
Photos From Previous Open Days