Portfolio Preparation Course Scholarship 2015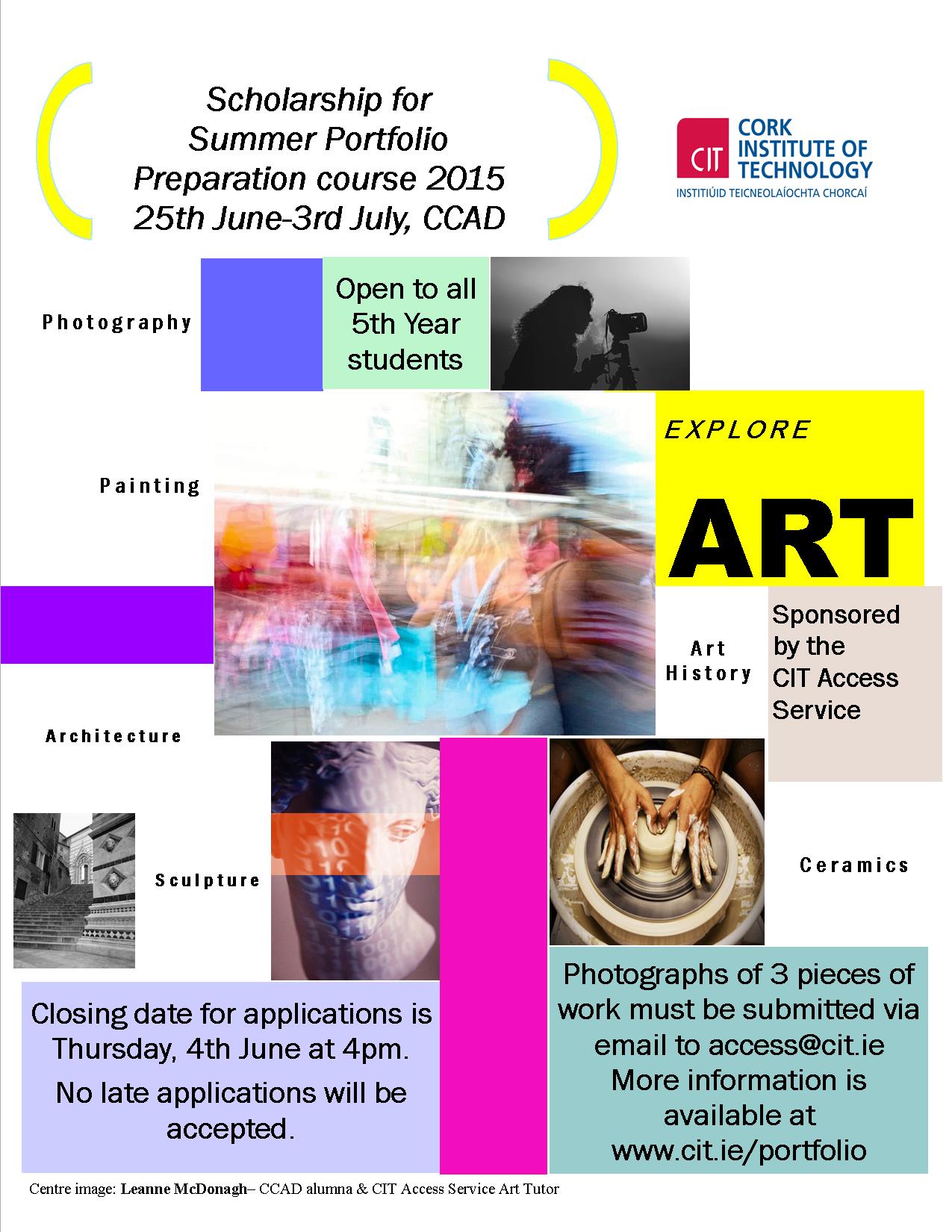 We are glad to announce the fifth annual fully paid scholarship, worth €350.00, for the CIT Crawford College of Art and Design's Summer Portfolio Preparation Course taking place from 25th June- 3rd July 2015.
The application process is open to all 5th year students; they do not need to be art students but must show a significant interest is some art form.
Applicants must submit: 3 pieces of art work electronically to linkedschools@cit.ie , a school reference and a completed application form (see attached) NO LATER THAN THURSDAY 4th JUNE at 4pm.
The scholarships are awarded on a competitive basis. Past winners of this fully paid scholarship submitted both excellent pieces of work and strong applications which portrayed a strong passion for art and design.
Please note: Scholarship applications will only be accepted from students attending Access Service Linked Schools. If you have any queries please email linkedschools@cit.ie
Course information:
This intensive seven day course is designed to assist and advise those developing a portfolio for work for entry into all Art and Design related courses. The course is suitable for both mature and leaving certificate students. Two specialist lecturers take the students through a number of set projects involving areas such as; Drawing, Painting, Printmaking, Photography, Construction and Life Drawing. The course directs students on how to construct a well balanced and individual portfolio with the student's specific career path in mind. The course runs from 10am-5pm each day and includes a 1 hr lunch break. All specialist materials are supplied. Places on this course are secured on a first come, first served basis on receipt of the fee.
Application form is available here.
Enquires to linkedschools@cit.ie