Regina Moran, President of Engineers Ireland and CEO of Fujitsu (Ireland) Ltd., Honoured in CIT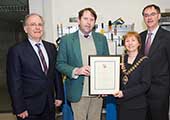 Published on: Monday, 13 April 2015

26th March 2015
The professional achievements of Regina Moran, President of Engineers Ireland and CEO of Fujitsu (Ireland) Ltd., have been recognised by the Faculty of Engineering & Science in CIT. Regina, a Chartered Engineer, holds qualifications in Electronic Engineering and Business achieved in CIT, WIT and DCU.
She was recently selected to receive the Faculty's STEM Graduate Achievement Award.

These awards were introduced to recognise graduates whose work in science, technology, engineering or mathematics (STEM) has made a significant contribution in a professional and/or societal context.
In her role as CEO of Fujitsu Ireland, Regina leads a 350-strong team focussed on providing innovative ICT services to the public and private sector in the Irish marketplace. She is committed to bringing forward Fujitsu's vision to create a Human Centric Intelligent Society, where the power of ICT is used to harness knowledge and continually drive new value and support sustainable growth.
In line with this vision, Regina has spearheaded a business change programme in Ireland placing a firm focus on innovation, customer personalisation and commercialisation of R&D programmes in Big Data, eHealth and sensor technology to address future societal challenges.
Regina is committed to improving education and innovation in Ireland, through research initiatives with universities and CSR initiatives with local schools with the primary goal of improving the skill sets of people in Ireland. In addition to Engineers Ireland and Fujitsu, Regina is also a member of the board of the Irish Business Employers' Confederation (IBEC), a member of the Dublin City University governing authority, and a Non-Executive Director of Eirgrid.
Michael Loftus, Head of Faculty of Engineering & Science at CIT, stated that:
"Regina has achieved much in her career to date and continues to inspire the next generation of STEM leaders. Her commitment to promoting Ireland on the world stage, redressing the skills gap, and promoting careers for women and students in line with the multiple pathway approach points the way for all of us to follow."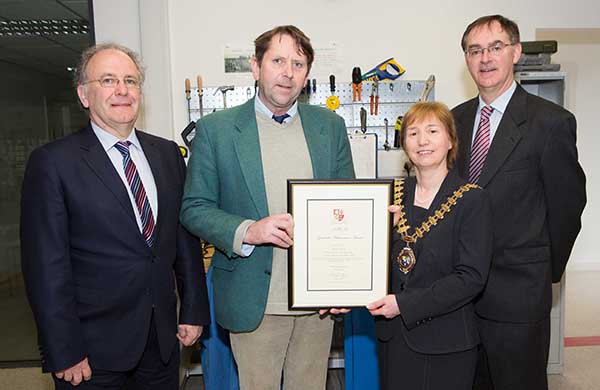 Dr Joe Connell, Head of Department of Electrical & Electronic Engineering, presenting Regina Moran with her CIT STEM Graduate Achievement Award. On the left, Matt Cotterell, Head of School of Mechanical, Electrical & Process Engineering. On the right, Dr. Joe Harrington, Head of School of Building & Civil Engineering.
Image Credit: Daragh Kane