CIT named Institute of Technology of the Year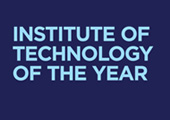 Published on: Friday, 02 October 2015
Cork Institute of Technology (CIT) is delighted to be named Sunday Times Institute of Technology of the Year for 2016. This is the third time that CIT has received this award.
CIT President, Dr Brendan Murphy, said that "the award recognises the professionalism and dedication of all our staff and is an endorsement of the quality of our students and graduates and of CIT's education and research.
CIT has a successful track record in achieving external accreditation, recognition and awards. In addition to winning this award for the third time, CIT has also been ranked in the top 10% of European higher education institutions by U-Multirank, the higher education rankings sponsored by the European Commission. Our students and graduates are multi-award winning, including twice winning the European Student Innovator Prize.
CIT continually strives for excellence in the provision of career-focused education, leading-edge research, and real-world innovation. The quality of our programmes is underlined by the fact that they are accredited, and highly commended, by national and international accreditation bodies and our successful research and knowledge transfer activities are exemplars within the sector.
The award of Sunday Times Institute of Technology of the Year 2016 recognises the contributions of all our stakeholders, both within CIT, and across the broader region. It confirms our position as one of the leading higher education institutions in the country and demonstrates why CIT, in partnership with the Institute of Technology, Tralee, is on course to being designated as the Munster Technological University in the near future."