Brendan O'Regan receives the STEM Graduate Achievement Award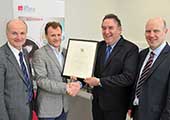 Published on: Saturday, 02 April 2016
Please click here to view info re previous recipients of the STEM Graduate Achievement Award
11th March 2016

Brendan O'Regan, Executive Chairman of Zenith Technologies
The professional achievements of Brendan O'Regan, Founder and Executive Chairman of Zenith Technologies, have been recognised by the Faculty of Engineering & Science in CIT. Brendan was amongst the first graduates of CIT's Instrument Physics programme and also graduated from the Stanford School of Business. He was selected recently to receive the Faculty's STEM Graduate Achievement Award.
These awards are presented to graduates whose work in science, technology, engineering or mathematics (STEM) has made a significant contribution in a professional and/or societal context.
As a successful entrepreneur and senior executive, Brendan has led the development of a number of technology companies, sourcing and building strong technical and management teams, driving expansion into new territories, and dealing with the cultural and management challenges of global business development. As an experienced technologist, with a proven track record of innovation in process automation and control, Brendan has led a range of organisations to deliver true business benefit to customers by exploiting best-in-class technologies. He has deep domain expertise in life sciences and across all aspects of the supply chain. In addition to his leadership achievements, he has developed deep technical ability in diagnostics, strategic planning, organisation development, team building and strategic exploitation of technology.
As well as his leadership role in Zenith Technologies, Brendan is involved as a stakeholder and executive in a number of allied technology companies.
Brendan is strongly committed to the advancement and promotion of STEM in Ireland. Amongst many other activities, he has been hugely supportive of new programme developments in CIT, providing student project and placement opportunities, as well as creating international employment opportunities for hundreds of local and international STEM graduates.
Michael Loftus, Head of Faculty of Engineering & Science at CIT, stated the following:
"Brendan has made a huge contribution to STEM development in the Cork region, leading developments which provide high quality local and international opportunities for STEM graduates. We are delighted to recognise the success that he has achieved on a global scale and wish him well in his future endeavours."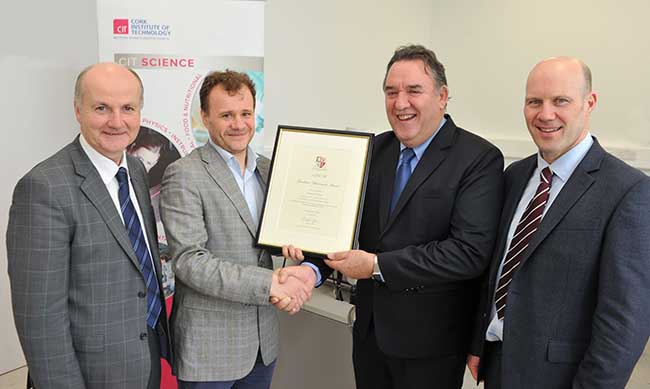 Brendan O'Regan receiving his CIT STEM Graduate Achievement Award from Dr. Guillaume Huyet, Head of Dept of Physical Sciences. Far left, Michael Loftus, Head of Faculty of Engineering & Science.
Far right, Dr Hugh McGlynn, Head of School of Science & Informatics.
Image Credit: Barry O'Sullivan, CIT