CIT Triumph at The Oscars of Irish Science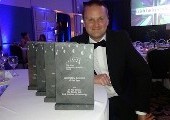 Published on: Friday, 27 May 2016
Cork Institute of Technology's, (CIT) Dr Roy Sleator, a Senior Lecturer in the Department of Biological Science, scooped up four awards at the Irish Laboratory Awards in Dublin. Billed as The Oscars of Irish Science, the ceremony took place in front of 250 of the country's leading academic and industry professionals. The Awards recognize the successes and achievements of Ireland's internationally renowned scientists in areas including innovation, leadership, and collaboration.
Dr Sleator won the Award for Laboratory Scientist of the Year, beating off stiff competition from Trinity, UL and NUIG. He won Medical Laboratory of the Year, Healthcare Laboratory of the Year and, with NSilico Life Science Ltd, the Innovation of the Year Award. NSilico is a company he cofounded with his CIT colleague, Dr Paul Walsh.
Roy attributed his success to collaborations with a number of outstanding scientists amongst his colleagues in CIT, Brigid Lucey, Paul Walsh and Aisling O'Driscoll, and Dan Corcoran at Cork University Hospital, as well as colleagues at the APC Microbiome Institute.
The Irish Laboratory Awards are sponsored by Enterprise Ireland, the Health Research Board and the Academy of Medical Laboratory Scientists.
Orla Flynn, Vice President for External Affairs extended her congratulations to Dr Sleator: "This is a massive win for Roy and for CIT." Dr Sleator also praised his home institution, CIT, as one of the best places to work, and study, in the country.