First Female Harbour Master Selected for STEM Graduate Achievement Award at CIT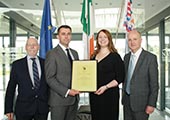 Published on: Wednesday, 07 September 2016

Please click here to view info re previous recipients of the STEM Graduate Achievement Award
Catríona Dowling was presented recently with a STEM Graduate Achievement Award by the CIT's Faculty of Engineering & Science at the National Maritime College of Ireland (NMCI). These awards were introduced to recognise graduates whose work in science, technology, engineering or mathematics (STEM) has made a significant contribution in a professional and/or societal context.
Catríona is the Harbour Master of Warrenpoint Harbour, ranked as Northern Ireland's second commercial port and ranked fifth on the island of Ireland. With 14 years of seagoing experience and 3-years of shore-based senior management experience supported by a MSc in Shipping Operations, she has developed a unique set of specialist skills and knowledge within the maritime industry.
Catríona began training for her chosen profession at an early age, gaining experience on tall ships before joining the Irish Naval Service Reserve. Following post primary school, she accepted a place in CIT on the BSc in Nautical Science programme and later completed her cadetship under the sponsorship of Trinity House. During her cadetship, she gained a vast amount of experience working on a large range of vessel types and she even completed a transatlantic voyage onboard a tall ship. On completion of her cadetship, she began working for Carnival Corporation, one of the world's leading cruise ship operating companies. She proceeded to be promoted through the ranks while working on board a number of vessels, operating under a number of different brands within the company, from 4th Officer posted in Australia with P&O up to 2nd Officer on worldwide voyages onboard the QE2 with Cunard.
In 2009, Catríona moved to short sea voyages and began working for Stena Line on the Irish Sea in both their Central and Northern Corridors. During this time, she also completed her BSc (Hons) in Nautical Science and her Masters Unlimited Certificate of Competency qualifying her to command her own vessel as Captain. Subsequently, she also completed the MSc in Shipping Operations through Southampton Solent University.
After 14 years of sea going experience, Catríona came ashore and began working as an Assistant Harbour Master in Belfast Harbour. She was later promoted to Deputy Harbour Master in Belfast Harbour before taking up her most recent role as Harbour Master in Warrenpoint Harbour. Catríona is the first female Harbour Master in the history of the island of Ireland and one of only two in the United Kingdom.
Conor Mowlds, Head of the NMCI, stated that "the NMCI is proud of Catríona and all that she has achieved in a range of challenging and rewarding maritime settings". Michael Loftus, Head of Faculty of Engineering & Science, CIT, said that "Catríona is a trailblazer in her chosen profession and a fantastic role model for future generations of STEM leaders."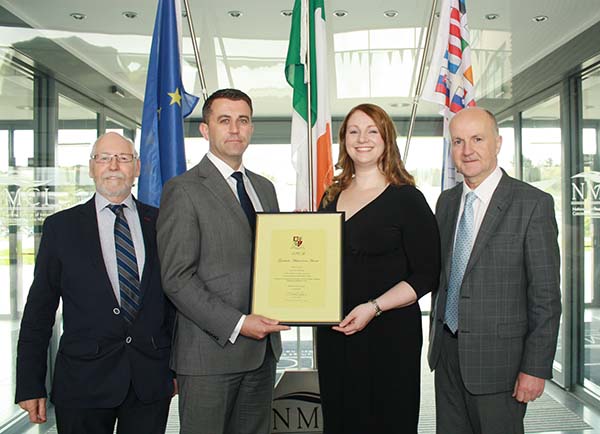 Pictured left to right: Capt Vivion Gough, Head of the Department of Maritime Studies, NMCI, Conor Mowlds, Head, NMCI, Receipient Catríona Dowling, and Michael Loftus, Head of Faculty of Engineering & Science, CIT.