International Award for Dr Margaret Linehan, CIT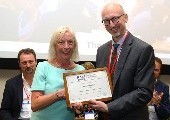 Published on: Thursday, 06 October 2016
The British Academy of Management (BAM) is the leading authority on the academic field of management in the UK, supporting and representing the community of scholars and engaging with international peers. Last week, the British Academy of Management hosted its 30th conference at the University of Newcastle upon Tyne, which was attended by 960 delegates.
To celebrate BAM's 30th anniversary, a select group of leaders were invited to be the first cohort of BAM Companions. Companionship of BAM is an award made by invitation only in recognition of outstanding contributions to the field of Management. The award is a means by which the BAM community honours those who have provided leadership in management practice or thought.
The four awardees this year are: Dr Margaret Linehan, Cork Institute of Technology; Professor Martin Grimmer, University of Tasmania; Peter Cheese, CEO of Chartered Institute of Personnel and Development; and Ann Francke, CEO of the Chartered Management Institute.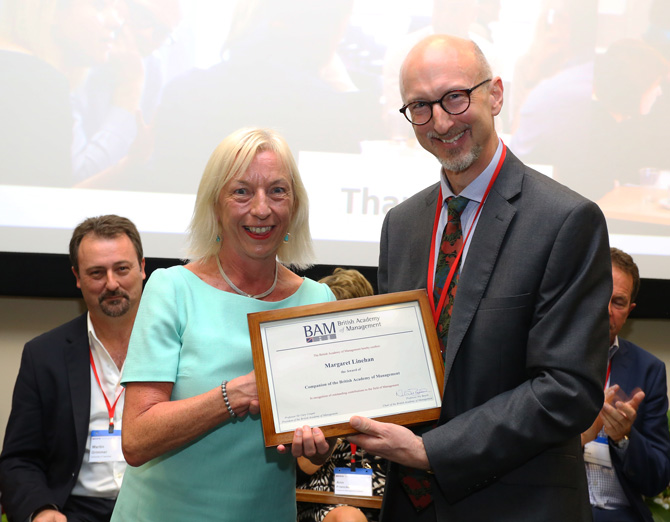 Dr Linehan was nominated by Professor Sir Cary Cooper, President of BAM, and Professor Nic Beech, Chair of BAM, and supported by the BAM selection panel. Professor Beech presented the Companionship award to Dr Linehan for 'the publication of 17 books and over 65 internationally peer-reviewed journal articles, twelve book chapters, ten reports, eighty international conference presentations, and for her valuable contribution to the Irish Academy of Management'.
Dr Linehan is Head of School of Humanities at Cork Institute of Technology and is Chair of the Irish Academy of Management. She is currently supervising five PhD theses and two Master theses.
Dr Linehan said 'I was honoured and delighted to receive this award, and I was surprised to learn that only four people internationally were nominated for the award'.
In subsequent years a maximum of two awards will be made annually. This is the first time that BAM presented this award to an Irish academic, thus recognising Cork Institute of Technology as a quality research institution. Dr Linehan accepted the award at the University of Newcastle.