Online air quality data available in CIT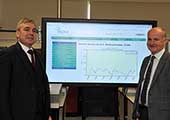 Published on: Friday, 14 October 2016
As a result of the development of an air monitoring system, ozone and sulphur dioxide concentration levels on CIT's Bishopstown campus may now be checked in real-time using the following link: http://epa.ie/air/quality/data/cit/
As part of the CAFE (Clean Air For Europe) Directive, Ireland is required to monitor the quality of air at various locations around the country. This is to ensure that citizens are not exposed to concentrations of certain pollutants above prescribed limits as detailed in the Directive. As part of the Directive implementation, the Environmental Protection Agency (EPA) oversees a network of 30 ambient air monitoring stations that provide data on the concentrations of pollutants including ozone, nitrous oxide, sulphur dioxide and carbon monoxide. CIT is now one of only two higher education institutions in Ireland that provide air quality data to this network.
According to Eamonn Butler, Lecturer in the Department of Physical Sciences in CIT and project leader, "a 2014 report by the European Environment Agency (EEA) indicated that up to 1,200 deaths in Ireland in 2012 were directly linked to air pollution, while for Europe the figure was approximately 400,000 – in this context, our work is of vital importance as it will help minimise air pollution levels into the future."
The Department of Physical Sciences in CIT maintains a suite of EPA-approved ambient air analysers that have recently gone 'live'. Ozone and sulphur dioxide real-time concentration levels on the Bishopstown campus will be monitored initially. The next step will be to expand the scope of the project to monitor nitrous oxide and carbon monoxide.
According to Michael Loftus, Head of Faculty of Engineering & Science:
"The monitoring station has been developed to contribute to the national air quality database with the additional aim of providing real-world experience for our students. They already gain proficiency in calibrating and using similar analysers in our teaching laboratories. Now they can gain an appreciation of how to adhere to the strict protocols required to maintain real-time systems to certifiable European standards. This encompasses important skills such as quality control, data analysis and validation. We are delighted to be working with the EPA in such an important area."
The analysers form part of the Air Quality Laboratory which was developed to support undergraduate programmes at the Institute. In this context, it will be used to support student learning across a range of existing and new courses in the Department of Physical Sciences in CIT.
| | |
| --- | --- |
| | |
| (L - R) Kevin Delaney, Patrick Kenny and Micheál Lehane – EPA. Eamonn Butler, Michael Loftus, Hugh McGlynn, Stephen Collins – CIT. | Micheál Lehane , Michael Loftus – CIT |