CIT Sharon O'Keeffe wins Bronze at AEHT in London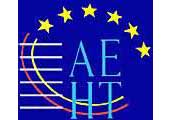 Published on: Thursday, 27 October 2016
On 27th October 2016, Sharon O'Keeffe, BBus in Culinary Arts, Year 2 won a Bronze medal at the AEHT European Association of Tourism & Hospitality Schools, held at The Tower Hotel in London.
Ann O'Connor (lecturer), Breda Hickey (lecturer), and Sharon travelled to London to participate at this year's AEHT event. Sharon participated in the Pastry competition. At the event Ann was a member of the international judging panel in the Culinary Arts competition. Breda was representing Ireland as national representative and her role is to represent Ireland at the Executive and General Assembly Meetings.
There were fifteen teams competing for the top three prizes in the Pastry competition. Each competitor was paired with a student competitor from another country on the first day of the event. Sharon was teamed up with Guiseppe Lafrate, an Italian student and together they worked on preparing and serving the Pastry that was on the competition brief. On Thursday night the results were announced at a Gala Ball held at The Tower Hotel in London where Sharon and Guesieppi were awarded a Bronze medal.
Sharon represented CIT earlier this year as part of a team in a Cook Serve competition hosted by GMIT. Sharon has worked in The Corbett Court Hotel and is now working part time as a commis chef at The Europe Hotel Killarney. This is a remarkable success for Sharon and indeed the Department of Tourism & Hospitality.
The prime objective of the AEHT association is to promote a European outlook among Hotel and Tourism Schools, by providing communication and encouraging exchanges among these schools, by creating closer links between schools and businesses as well as developing networking not only in Europe but throughout the world and by providing a means of communication between European Hotel and Tourism Schools:
by making more widely known the information about hospitality education in other countries
by encouraging exchanges of students and teachers
by creating closer links between schools and businesses
AEHT has a membership of around 430 schools and colleges, with an AEHT national representative in 44 European countries. Each year the conference is hosted in a different European country and this year the host country was The United Kingdom and the host college was The London Docklands Academy who established close links with Redbridge College in Newbury Park who provided the facilities for all competitions.
Approximately 600 participants, consisting of teachers and students of member schools attended the AEHT annual conference this year. Students competed in several categories of catering, hospitality and tourism competitions including Barista, Cocktail competition, Hospitality Management, Wine service, Restaurant Service, Pastry, Decathlon, Culinary Arts, Front Office and Tourism. This year's event began on Monday Oct 24th with a welcoming ceremony which was held at Church House in Westminster. A range of workshops and Masterclasses including wine tasting, cocktail making, effective teaching and class management and the Cognac Embassy Project were also held over the course of the event.