V i s i b l e Frequencies // CIT Arts Office Science Week Exhibition >> 7th - 24th Nov 2016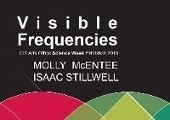 Published on: Thursday, 03 November 2016
Opening hours: Monday to Friday 10am - 5pm
Venue: James Barry Exhibition Centre, CIT Bishopstown Campus
Admission is free
Opening Reception: 9th November @ 7pm.
CIT Arts Office has invited two artists, CIT CCAD Graduates Molly McEntee and Isaac Stillwell, to exhibit their work for the CIT Science Week Exhibition 2016.
This annual exhibition, supported by CIT Department of Physical Sciences and the Science For Life Office at CIT Access Service, presents artworks that respond to and illuminate scientific concepts, research, or methods. It aims to highlight the valuable links between the Arts and the fields of Science, Technology, Engineering and Maths - putting the 'A' in STEAM.
The works in Visible Frequencies focus on light, sound, structure and chaos, and on human perception of these phenomena.
Molly McEntee examines perception of light and colour, particularly focussing on conditions that cause difficulties in registering depth and shapes. In this exhibition, Molly will create an installation of coloured light, and present a series of large photographs.
Isaac Stillwell develops a variety of algorithms and processes to convert data into music, drawings, and multi-media works. These works aim to reflect, and find order in, the complex and chaotic nature of the universe and our existence in it.
For further details, see the CIT Arts & Culture website arts.cit.ie
Or contact CIT Arts Office by email artsoffice@cit.ie