CIT President, Dr Brendan Murphy, to be honoured in Germany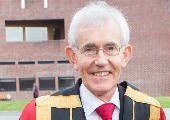 Published on: Wednesday, 23 November 2016
Cork Institute of Technology (CIT) President, Dr Brendan Murphy, is to be awarded the title of Honorary Senator of Hochschule Darmstadt (Hda) in Germany. The award recognises the role that CIT, and Dr Murphy in particular, has played in the development of the German institution. In a relationship that has lasted almost 30 years, both CIT and Hda have worked together on a range of initiatives, including student exchange, joint programmes, and research.
In speaking about the relationship between CIT and Hda, Dr Murphy says "The extensive cooperation with Hda, and the friendships developed over three decades of great change and lasting achievement, have shaped me and my own institution, its staff, students, and graduates. I hope also that I, and my colleagues in CIT, have helped in the development and growth of Hda, and will continue to do so in the years ahead."
A major development was the creation of a joint degree course in multimedia which was built from the ground up with the same modules, offered in both institutions, all delivered in English, and with a single award. This was the first programme of its type ever developed by an Irish institution and it required a change to the regulations of QQI (then HETAC) at a national level.
Most recently the cooperation has extended to joint Doctoral programmes, where Hda academics have gained the experience of jointly supervising PhD candidates to completion. This experience has aided Hda in their application to be allowed to award their own PhD's , they will be the first Hochschule in Germany to award PhD. CIT have also benefited from this collaboration with new joint research projects and papers, an increased pool of supervisors, and industry contacts.
On receiving the honour Dr Murphy says, "I am sincerely grateful to accept this honour on behalf of all the CIT staff and students who have worked to make our relationship with Hochschule Darmstadt a long, productive, and successful one."