CCAE Graduate Seán Mcmahon Wins Inaugural "Riai Scott Tallon Walker Student Excellence Award in Architecture".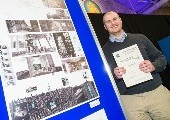 Published on: Monday, 05 December 2016
Seán McMahon was announced as the inaugural winner of the "RIAI Scott Tallon Walker Student Excellence Award" in Architecture at the recent Annual Conference of the Royal Institute of the Architects of Ireland (RIAI). Seán, a graduate of the Masters of Architecture Course at Cork Centre for Architectural Education (UCC/CIT), undertook his studies under the supervision of Course Leader Jason O'Shaughnessy and Lecturers Dr Eve Olney and Eoin French, and received the Award and an associated prize fund of €3,000 for his Prague-based architectural thesis project called Pravda Vitezi or Truth Prevails.
He joins a distinguished list of recipients including Sam Stephenson of what was previously known as the RIAI Travelling Scholarship, which has been in existence for over 80 years. The award was relaunched this year and renamed in memory of Scott Tallon Walker Architects' three founding partners – the esteemed Irish architects - Dr. Michael Scott, Dr. Ronald Tallon and Robin Walker. The newly designated award seeks to recognise and reward excellence in final year architectural studies, and create a platform to showcase the work emerging from Irish schools of architecture. In total, forty-one entries were received this year from six of the seven schools of architecture on the island of Ireland.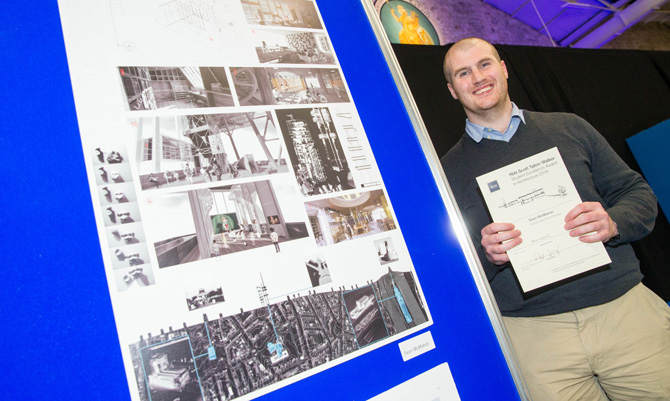 Photo taken by Conor Healy.
His design proposal for the site in Prague is imagined as a celebration of the freedom of expression following the fall of Communism, and takes the form of a toy museum and a "making" workshop. It deliberately sets out to question the role of the individual in areas monopolised by large industry, whilst also celebrating the nations past culture - as expressed through the medium of toy-craft, and culminates with a peripatetic festival across Eastern Prague. His project impressed an esteemed judging panel, who celebrated "…the ambition, imagination and atmospheric presentation which stood out from a very strong crowd and the creation of a new building type that revolved around play, movement, fantasy, and the prioritising of children' which they described as a new and exciting concept. The panel also praised the way that the project was '…technically interesting and with graphic presentation of an exemplary level this project took us to a different place and realised a vision of what a student project could be.'