Christmas Concerts Galore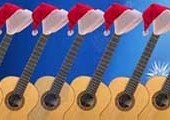 Published on: Tuesday, 06 December 2016
CIT Cork School of Music, Union Quay, has a wonderful range of Christmas concerts over the next couple of weeks. Please visit http://csm.cit.ie for more details.
The National Maritime College of Ireland, based in Ringaskiddy, is the location for the much loved Guitar Plus annual Christmas concert.
This year, the ensemble will be joined by the CIT CSM IrishTraditional Group.

Concert begins at 12.30pm, Thursday 8th December 2016. Admission is 2Euro, all proceeds will go to the Nathan Kirwan Trust.