CIT Awards Over 100 Pfizer Staff Single Subject Certification in Chemical Process Safety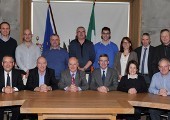 Published on: Monday, 12 December 2016
Cork Institute of Technology (CIT) has awarded single subject certification to over 100 Pfizer staff based in Ringaskiddy and Little Island, having successfully completed the Module CHEP8023 Chemical Process Safety.
This class originated as a response from desire of CIT alumnus, Shane Horgan (Class of 1999), to develop a "sense of vulnerability" in his colleagues on the Little Island site. He also wished to ensure process safety was not seen as the preserve of a limited few and to empower staff to challenge, and to be critical and to seek better operation and safer practices continually .

The Department's eighth group of students will take their final assessment this week and CIT is preparing for the ninth group in early 2017.
The success of this programme means it has now moved from the pilot stage to full scale production, while a second generation Module CHEP8024 Chemical Process Safety Applications, is ready to be piloted in 2017. Together, these two modules constitute a Special Purpose Award.
The achievements of the programme have been recognised by the receipt of a national Responsible Care award and an international IChemE Global Award in Education and Training.