Business Opportunities in the Space Industry > 30 March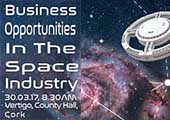 Published on: Tuesday, 14 March 2017
Could your business find a customer in the Space Industry?
30th March 2017 – Cork County Hall – 8.30am to 11.00am

It's not out of this world. There are enormous opportunities for Cork businesses to have their products sold to a global market. From architecture to manufacturing and construction, from ICT to Agri-tech and Law, you could literally have a whole world of new customers.

Cork County Council, along with the CIT, will host a Seminar in advance of the International Space University Summer Space Programme which takes place this summer, bringing global space business leaders to Cork and indeed Ireland, for the first time. The seminar will identify how you can avail of these opportunities and make space a customer for your business. A business worth over €300 billion annually.
Registration will be open from 08.30 am in Vertigo, County Hall where refreshments will be available and the Seminar will commence at 9.00 am sharp. We will aim to finish the seminar by 11.00am.

Please register your attendance for this seminar by COB on 29th March using this link

Carparking will be available adjacent to the Kingsley Hotel on the City side.

For more information contact justine.kelly@corkcoco.ie