Dr. Nick Winkelman holds workshop at CIT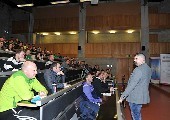 Published on: Friday, 24 March 2017
Following last November's hugely successful 'Optimising Sports Performance Workshop' with world renowned Applied Sports Scientist and Performance Coach, Dr. Tim Gabbett; the Department of Sport, Leisure & Childhood Studies at CIT welcomed over 100 Coaches, Physiotherapists, Teachers and Athletes to the CIT Campus for the second in this series of Sports Performance Workshops, which was delivered by the highly acclaimed Performance Coach and Applied Sports Scientist, Dr. Nick Winkelman.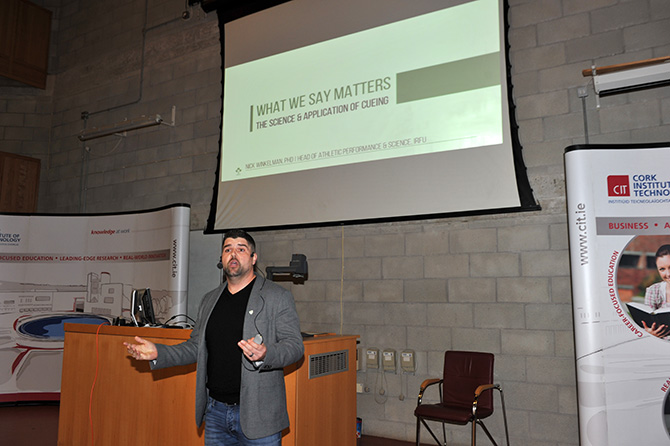 Dr. Nick Winkelman is the Head of Athletic Performance & Science for the Irish Rugby Football Union. Prior to working for Irish Rugby, Nick was the Director of Education for EXOS (formerly Athletes' Performance) where he oversaw the development and execution of all internal and external educational initiatives. As a Performance Coach, Nick has worked with many athletes within the NFL, MLB, NBA, National Sport Organizations and Military, while he also oversaw the speed and assessment component of the EXOS NFL Draft Development Program, which supports over 100 athletes a year preparing for the NFL (American Football).
Dr. Cian O' Neill, event organiser and Head of Sport, Leisure & Childhood Studies at CIT, commented that "We are honoured and humbled to have Dr. Nick Winkelman visit the Dept. of Sport, Leisure & Childhood Studies and also to deliver a very educational, informative and insightful Workshop to a captivated audience here at CIT. It is such a rare opportunity to have a world class speaker in the Sports Science and Athletic Performance field such as Nick in Ireland, not to mind to have him share his incredible knowledge and experience in the professional sport arena in such an informal setting".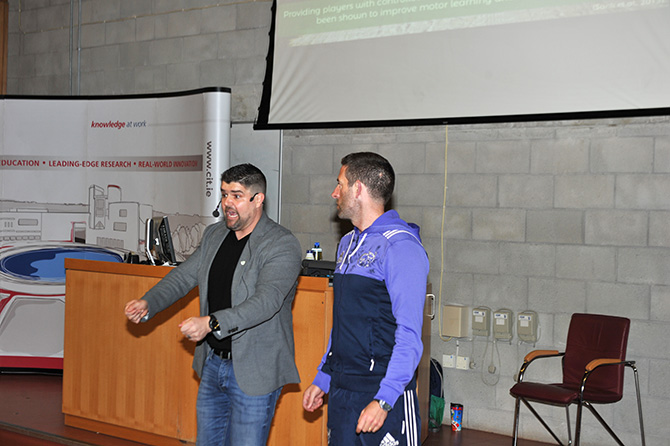 The event was sponsored by Metrifit (Athlete Monitoring Systems: http://www.metrifit.com/) with Kinetica and Britvic providing the food and drink options for the large crowd in attendance. This was the 2nd in a series of Workshops/Seminars from internationally renowned speakers from the world of Elite Coaching and Sports Performance that the SLCS Dept. have planned for the future (i.e. 1 per semester).
The 3rd event in this 'Optimising Sports Performance Workshop Series' is already being planned for next November with another internationally acclaimed practitioner in the field of Sports Science and Athletic Performance lined up.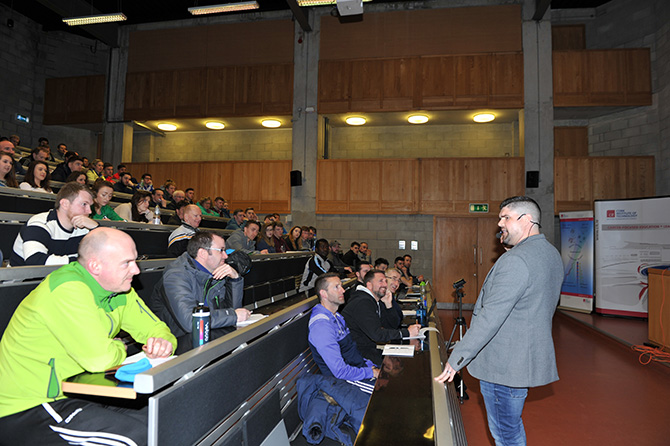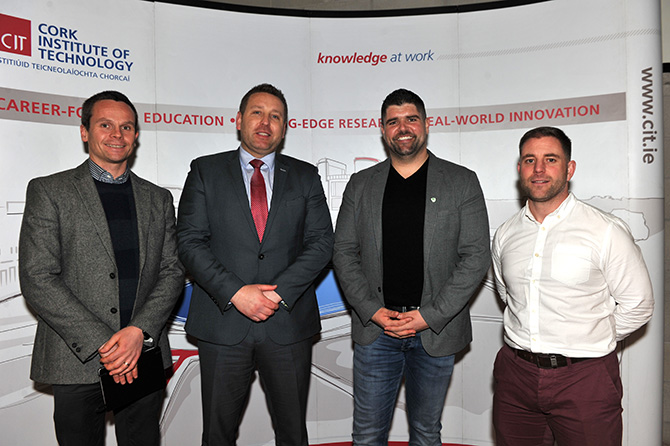 Organising Committee of Con Burns, Cian O' Neill and Jason McGahan with Presenter, Nick Winkelman