CIT Project Spraoi collaborates with New Zealand heath promotion initiative Project Energize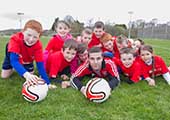 Published on: Wednesday, 22 March 2017
Cork Institute of Technology Project Spraoi collaborates with New Zealand Project Energize to make International heath promotion initiative.
Project Energize was adapted for primary schools in County Cork, Ireland, in 2013. CIT was looking for a programme that delivered on both physical activity and nutrition and was impressed by Energize. The Irish equivalent programme is called Project Spraoi, with a dedicated team working in local primary schools to deliver the initiative.
Sport Waikato helped with the development of the programme. Spraoi is delivered in four schools to 1030 students aged 7 and 8. Project Spraoi coordinator Dr Tara Coppinger explained that the school students would be monitored on improvements made in the areas of nutrition, increases in physical activity and decreases in sedentary time.
"We have masters and PhD students supporting the programme. Once we saw a presentation of Energize we decided to use the best practice model and adapt it to an Irish setting. The response from the school community so far has been very encouraging," Coppinger said.
BY THE NUMBERS
One in nine children aged 2 - 14 years are obese
21 per cent are overweight
15 per cent of Maori children are obese
30 per cent of Pacific children are obese
Children living in the most deprived areas are three times as likely to be obese as children living in the least deprived areas.
The child obesity rate increased from 8 per cent in 2006/07 to 11 per cent in 2014/15.
News Article
http://www.stuff.co.nz/life-style/well-good/inspire-me/89835416/project-energize-targeting-childhood-obesity