MSc Research Opportunity within the Department of Sport Leisure and Childhood Studies & the Department of Biological Sciences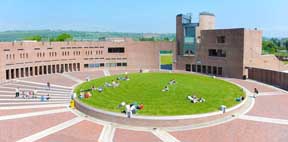 Published on: Tuesday, 09 May 2017
Applications are invited for the educational opportunity of MSc researcher, within the Department of Sport Leisure and Childhood Studies & the Department of Biological Sciences, Cork Institute of Technology, Cork.
Background
The International Survey of Children's Well-Being (ISCWeB) – the Children's Worlds is the most wideranging and diverse study ever conducted internationally on children's lives from their own perspective. The project began in 2009, with the most recent wave of the survey collecting data from over 53,000 children aged 8-12 years, from 15 countries.
The main objective of the proposed study will be to explore Cork primary school children's lives and their well-being from a child-centred perspective. The survey, as a part of the third wave of the Children's Worlds project, will bring a valuable comparative descriptive insight into the lives of Cork children from an international perspective.
Proposed Research
The proposed study is part of the third phase of The International Survey of Children's Well-Being (ISCWeB) – the Children's Worlds project, and will be carried out in Cork from September 2017 to August 2019. The successful candidate will be responsible for recruiting schools across Cork in order to survey at least 1,000 children from each of the three assigned age groups (8, 10 and 12 years old). The research will involve administering and analysing the Children's Worlds questionnaire. Student registration fees for the proposed MSc will be covered, and a laptop and postgraduate study workstation within CIT will be provided. The student, however, will not be in receipt of a stipend.
Candidate Specification Mandatory:
Honours degree with minimum upper second class honours in Nutrition, Health, Education, Psychology, Sport Science, Childhood Studies or a related cognate area.
Have excellent organisational skills and attention to detail.
Ability to work independently and as part of a team.
Have a full clean driver's licence and access to a car.
Desirable:
Experience in data analysis of quantitative data.
Experience working with primary school aged children. Interested applicants should submit a Curriculum Vitae including contact details of two referees to tara.coppinger@cit.ie or aoife.mccarthy@cit.ie by 4pm on Friday 26th May 2017. Please also submit a short statement (max 300 words) highlighting how your experience meets the requirements of the educational opportunity.
Interviews will be held in June 2017, with the position commencing on 1st September 2017. For further information contact Tara Coppinger PhD, Email: tara.coppinger@cit.ie or Aoife McCarthy PhD, Email: aoife.mccarthy@cit.ie