The Bridge Network Consortium launched at UCC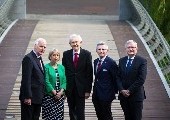 Published on: Thursday, 18 May 2017
A new consortium, The Bridge Network was launched at University College Cork. Led by UCC, the consortium comprises four technology transfer offices from University College Cork, Teagasc, Cork Institute of Technology and Institute of Technology Tralee.
Building on significant success to date in terms of licensing, spin out companies and research income, the technology transfer consortium will create an effective link for knowledge transfer expertise to be shared and used in the member institutions, enhancing the innovation ecosystem regionally and nationally. Funded by Enterprise Ireland under TTSI 3 (Technology Transfer Initiative) and supported by Knowledge Transfer Ireland, the Bridge Network consortium will apply its combined expertise to support the commercialisation of research, early stage spinout companies, licensing and ultimately effective relationships with industry.
Speaking at the launch, CIT President Dr Brendan Murphy said "Knowledge Transfer and Technology Transfer feature strongly in CIT's strategic planning; in our Strategic Plan, in our Research and Innovation Strategy and in our Engagement Strategy. The Technology Transfer function, as part of our Industry Liaison Office, is a key element of CIT's innovation eco-system…We all have very ambitious targets for TTSI3. Among our targets CIT is committed to creating 5 new companies and undertaking 150 small projects with companies over the next five years and 65 larger collaborative research projects….Effective Technology Transfer is especially relevant for supporting research impact and engagement with industry in particular. Given our strong tradition of working with industry and supporting start ups we expect to be a significant contributor to the shared learning among the Bridge consortium and the impact that it will make regionally and nationally".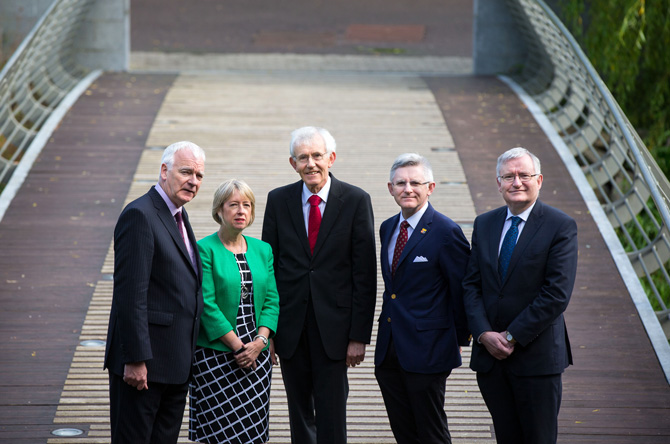 Dr Declan Troy, Teagasc Director of Technology Transfer; Dr Alison Campbell OBE, Director of Knowledge Transfer Ireland; Dr Brendan Murphy, President CIT; Prof Pat O' Shea, President UCC ; Dr Oliver Murphy , President IT Tralee.