Event: Rory O'Neill to Open CIT CCAD Degree Show
Friday, 09 June 2017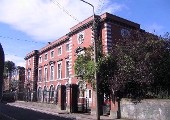 The Annual CIT Crawford College of Art and Design Degree Show, will open on Friday, June 9th, at 6.00 pm and Rory O'Neill (aka Panti Bliss) will be on hand to open the event. Rory is himself an Art College Graduate, having attended Art College in Dun Laoghaire.
For eight days, the entire building at CIT Crawford College of Art & Design on Sharman Crawford Street, will be transformed into a gallery, showcasing the work of final year students and the public are invited to visit for these celebratory exhibitions. The exhibition, from over 60 individual graduates, each with a unique perspective on the world, includes a wide range of art processes including, painting, sculpture, photography, media, print, performance, ceramics, glass, and textiles. The title, BEYOND DIALOGUE, refers to the unique language of art, and while some ideas belong to the written/verbal word, other ideas are better expressed within the context of an art experience.
One of the highlights of the Cork cultural calendar, the CIT Crawford College of Art & Design Degree Show, presents an opportunity to view the fresh, exciting work of the next generation of artists.