Cork City Sports To Be Broadcast Live from CIT on TG4 on Tuesday 18th July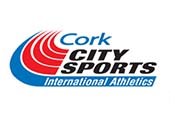 Published on: Friday, 14 July 2017
Cork City Sports will return to live television, when the legendary athletics meeting is broadcast live on TG4, to commence a multi-year deal.
For the event's 66th running, July 18th this year will mark the first time in twelve years that the Cork City Sports will have aired on live television.
It will also be TG4's first ever live athletics broadcast, having featured highlights of the All-Ireland Schools Track and Field Championships from 2004 to 2010. TG4's athletics coverage resumed earlier this year with highlights of the AIT Indoor Grand Prix from Athlone.
Cork City Sports chairman Tony O'Connell said: "This is a big boost for the Cork City Sports in its 66th year. We feel that live television coverage both home and abroad is vital to bring our great meeting to the next level."
Meet director Joe Hartnett stated: "Going back to the days of Steve Ovett and Yuri Sedykh in the 80s, and Sonia O'Sullivan in the 90s and 00s, the Cork City Sports has always been a highlight of the Cork sporting summer and the Irish athletics summer. Now we hope to find a whole new audience. By becoming higher-profile, we hope to attract many more quality names to Cork City."
Donal Murnane, Cork City Sports PRO commented: "We are thrilled to be going live on TG4. The channel's sports coverage is very highly-regarded and we look forward to the Cork City Sports becoming a staple of their live output."
TG4 head of sport Rónán Ó Coisdealbha said: "TG4 are delighted to commit to this coverage of the Cork City Sports. As a supporter of all sports we believe it is paramount for headline athletics event to be available free-to-air. Athletics has provided some major good news stories for Irish sport down through the years, and in recent years via the medal exploits of Thomas Barr, Ciara Mageean, Mark English, Fionnuala McCormack and Rob Heffernan, and we hope to see more of them in future on TG4."
TG4's broadcast will run from 7:20pm to 9pm on Tuesday, July 18th, with commentary from Con Murphy and Dick Hooper, with Mark Rodden reporting.
Coverage will also be available online worldwide via the TG4 Player and live streamed on the Cork City Sports Website.