Teenagers Develop their Entrepreneurial Skills in CIT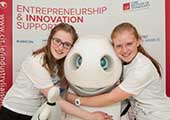 Published on: Monday, 28 August 2017

An intensive summer camp was held in CIT which immersed a group of teenagers in the world of entrepreneurship, creativity and innovation. The camp, now in its sixth year, is aimed at 14 to 16 year olds from schools across Cork City and County. This year's camp also attracted participants from as far away as Spain and was hosted by CIT's Hincks Centre for Entrepreneurship Excellence. The camp was supported by the HEA Entrepreneurship, Creativity and Innovation Summer Camp programme 2017.
Participants were given the opportunity to be creative, explore opportunities, share ideas, and build connections within CIT and with each other. A series of guest speakers, along with frequent visits from the on-site start-ups, offered inspiration and motivation. Young entrepreneur, Alex Musgrave from Dog Day Media who started his successful business when also a full-time student, impressed the teens with his modern and fun animations and video.
This year's camp saw the introduction of the maker space component from NIMBUS, where participants developed their innovation and creativity skills in teams through design led prototyping.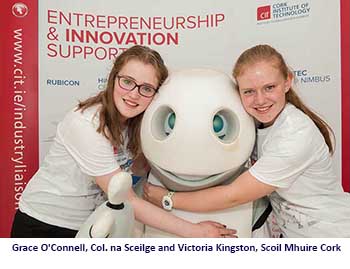 Camp participants learned the value of marketing and customer focus from Stephen Ryan, Marketing Director, Red FM and completed practical work on generating business ideas, researching, and understanding the market, from experienced CIT lecturers. A visit to Waterfall Farm provided an insight into a very customer focused and innovative fruit and vegetable preparation business. Students also met new and established entrepreneurs such as Kevin Hoban, H2 Compliance, Paul Brugger, TIC, Paul Keneally, Boxplore, and Kevin O'Connor, Frankly Nuts.

The students worked together learning how to think, plan, and act, like entrepreneurs to develop their business ideas throughout the week. Some of the ideas during the week included: a wifi key chain, reversible external seating, a reengineered wheelchair, warm up sports pants and a an electronic foam roller among many other innovative ideas.
The high energy week culminated with groups putting their business ideas to the test by pitching their idea to a panel of judges on the final day. Certificates were awarded to all of the participants by Dr Brendan Murphy, President of CIT.
CIT is at the forefront of entrepreneurship education and training and is ideally placed to host this unique Enterprise Camp. Dr Breda Kenny, Head of Hincks Centre for Entrepreneurship Excellence, said "entrepreneurship education empowers students and young people to make well-informed decisions about their future, whether they choose to become entrepreneurs or not. Our camp participants are encouraged to discover and value their own assets and skills, such as: time, talent, attitude, energy and unique knowledge of their local market. They are encouraged to use these assets and skills to be entrepreneurial, an entrepreneur to make money or to make a difference in their communities".
Numerous participants will continue to engage with the entrepreneurial network in CIT as they progress through their school years, whether it is for work experience opportunities or advice on their transition year companies.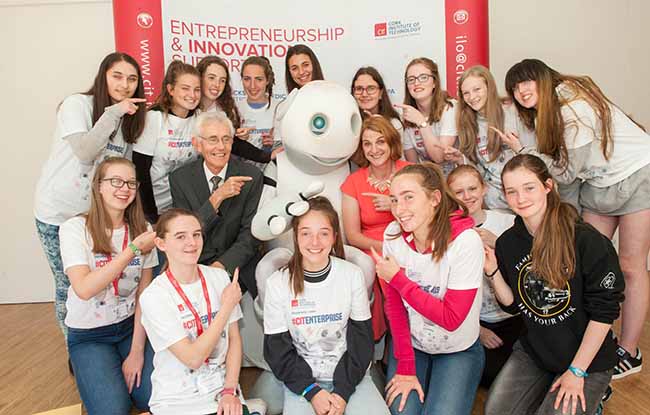 Included in photo is Dr Brendan Murphy, President of CIT and Dr Breda Kenny, Head of Hincks Centre for Entrepreneurship Excellence.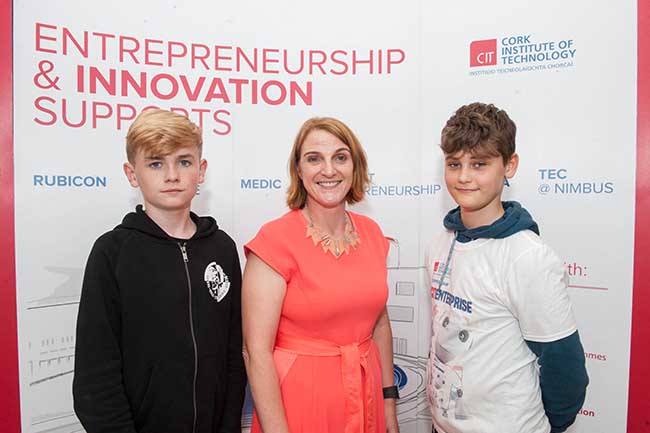 Josh Delaney (left) from Rockwell College, Cashel and Tadhg Veltheaysen, Col. Dun Iascaigh, Cahir with Dr Breda Kenny, Head of Hincks Centre for Entrepreneurship Excellence.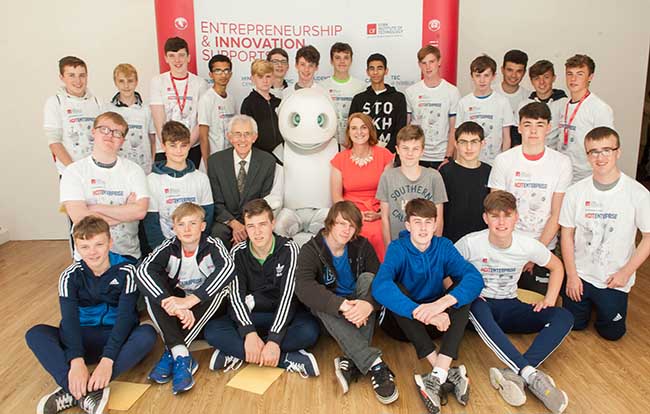 Image credit: Brian Lougheed