Doublethink > Exhibition by recent CCAD graduates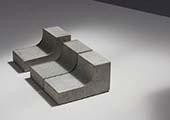 Published on: Monday, 11 September 2017
Dates: 11th - 26th September
Opening Times: Monday – Friday, 10am – 5pm
Venue: James Barry Exhibition Centre, CIT Bishopstown Campus
Doublethink is an exhibition by recent graduates of CIT Crawford College of Art & Design; Enid Conway, Leah Corbett, Isabel English, and Wilhelmina van der Bent as a result of the CIT Student Engagement Award.
Through an interrogation of existing structures, each artist explores ideas around political and social constructs. Issues relating to gender, tradition and communication are examined, as well as notions of perfection and failure.
Doublethink is a term taken from George Orwell's novel Nineteen Eighty-Four and refers to the acceptance of two contradictory ideas, often in social contexts. The works highlight the contradictions which exist in society and the tension between the necessary acknowledgment of the past coupled with a desire for change. We are presented with the paradox of searching for perfection within a failed system.
For more information check CIT's Arts & Culture website