Prestigious international research award for Cork Institute of Technology and National College of Ireland Researchers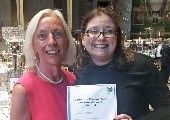 Published on: Thursday, 14 September 2017
The British Academy of Management annual conference was held in the University of Warwick, UK, last week and attracted 985 delegates. The British Academy of Management, founded in 1986, is a learned society dedicated to advancing the academic discipline of management, supporting and representing the community of scholars and engaging with international peers.
Last week, Dr Corina Sheerin, National College of Ireland, Dublin and Professor Margaret Linehan, Cork Institute of Technology received a best paper award for their research on the lack of advancement of women in the Irish Investment Management Sector.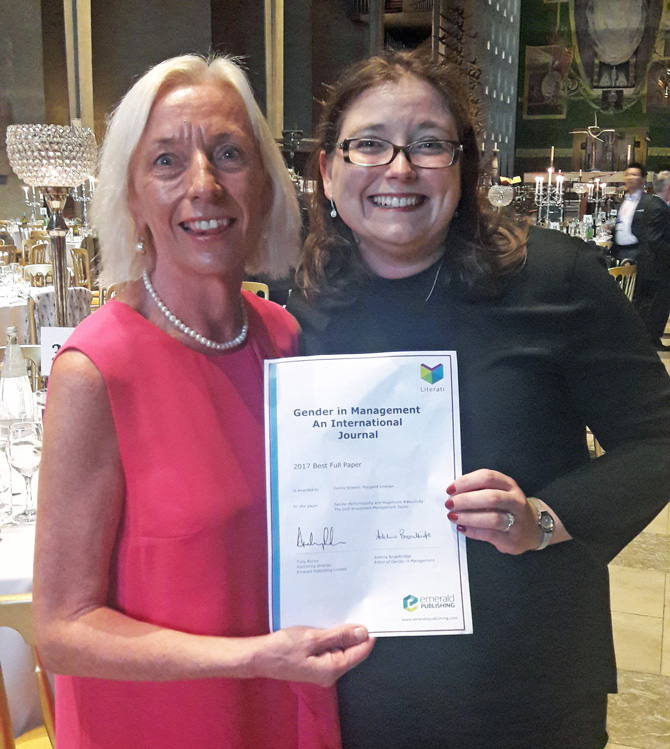 Dr Sheerin and Professor Linehan's research with Investment Management employees (both male and female) illustrated that the organizational practices which govern recruitment and progression emphasize privilege for men. Among the women interviewed for the research, there was an acceptance of an inherent stereotype that women are not the right fit for certain roles.
Female interviewees spoke strongly about the difficulties of having children, while pursuing Investment Management senior roles, one interview succinctly stated 'having a womb is my downfall, they think I don't fit in the inner circle because I have boobs and a womb'.
The research findings highlighted the prevalence of the old boys' network, and the banter, which was considered part of the fibre of the sector. Female interviewees also discussed client entertainment and how sports such as rugby, golf and football provided a platform for exclusion of women. One interviewee noted 'client entertainment in strip clubs or rugby games for teambuilding days was there to remind you that you were purposefully left out'.
All female employees noted that office chat and banter had no limits. There was also the existence of an unspoken dress code. Interviewees suggested that the expectation was to 'be well-groomed but not noticeable, fit in, but, not stand out. It was always helpful if you were blonde and somewhere between a size eight and a size ten as the image thing was a minefield on a good day'.
In summary, the research findings indicate clear evidence of a patriarchal divide which is underpinned by the maintenance of closure regimes and the ongoing reproduction of a masculine culture. Such findings have implications for policy makers at government, sectoral and organizational level in addressing gender inequality. Equally, there is a need for government to better legislate against the persistent gender pay gap and lack of flexible working arrangements in male dominated sectors such as investment banking.
Finally, the overarching conclusion from this research is that Investment Management remains a gendered sector and organizational closure behaviours exist in this domain and women were excluded from senior roles on the basis that they did not 'fit'.
Speaking after receiving the award, Professor Linehan said 'we are delighted and excited to have our research recognized at an international level, and given the stiff competition at this conference, the award is much valued. We are hoping that our research findings will have an impact for women reaching senior management roles, not only in Investment Banking, but across all Irish organizations and beyond'.