CCAD Art Therapy Graduate wins the HPN 2017 Innovation & Service Development Award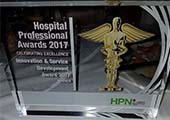 Published on: Monday, 18 September 2017
Congratulations to Adrienne O'Shea
Adrienne, who will be graduating in October 2017 with an MA in Art Therapy won the 'Innovation & Service Development Award' at the 2017 Hospital Professional Awards which was held in Dublin at the weekend.
Adrienne, who was on clinical placement at St Luke's Hospital, Kilkenny this year, ran an Art Therapy intervention to support children and adolescents diagnosed with Type 1 diabetes. The objective was to provide a service to support Paediatric Patients (inpatient & outpatient) with their diabetes diagnosis, illness management, and coping mechanisms with a view to improve adherence and compliance. The preliminary findings of the evaluation carried out through a semi structured interview suggested the service was integral as a part of the paediatric patients' care and treatment of diabetes. It provided more engagement to the overall diabetes service and supported staff in providing treatment to the whole of the person and not just the illness.
Well done again to Adrienne and the team at St Luke's who supported her there.