The Power of We, CIT Hosts 8th Annual PASS/PAL Leader Conference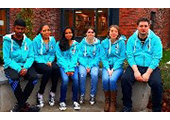 Published on: Wednesday, 01 November 2017
AnSEO – The Student Engagement Office, CIT, in collaboration with The North European Centre for Peer Assisted Study Support (PASS) will host the 8th Annual PASS PAL Leader Conference next weekend (3rd, 4th & 5th November) at CIT's Bishopstown Campus, bringing together PASS/PAL Leaders from Ireland, UK, Germany and Sweden.
Student Leaders and Staff from 25 Northern European universities/institutions have registered to attend and participate in the PASS PAL Leader Conference, 2017. Attendees will have the opportunity to connect with each other, to learn and share best practices and experience, to upskill, to network, all while having fun. PASS/PAL Leaders are trained students who use many different learning tools and techniques to lead and facilitate study sessions with younger year groups.
The conference theme - The Power of We: Exploring and Upskilling for Collaborative Learning

"Together we can all achieve more. The CIT motto 'Rísam Uile' - Let Us All Succeed Together, as well as CIT's long and hard-earned reputation for being student centric, informed our thoughts when choosing a theme," says Marese Bermingham, Head, AnSEO Student Engagement Office and Head, Teaching and Learning Unit CIT. "Student to student peer learning support can be a very powerful method in assisting students to reach their full potential academically and personally. At CIT our PALS (Peer Assisted Learning and Support) project is one of a range of positive actions we are taking to maximise our students progression and success. In recent years we have introduced an excellent student induction programme, Good Start; Academic Success Coaching; Student/Staff partnership in Quality, sparq at CIT; tailored Transitions to CIT projects led by academic programme teams and we offer a range of academic learning supports in challenging subject areas through our Academic Learning Centre. In CIT our students matter and every student counts. We are very honoured to have been selected to host the Peer Assisted Study conference this year and look forward to welcoming all our visitors to Cork."
Throughout the weekend sessions will run covering topics focused around collaborative learning such as Diverse Learning Styles, Influencing and Working Together, Leadership Styles, Managing Conflict in Groups, Mindfulness and Using Art and Creativity to Explore Collaborative Working. Sessions will be led by staff from CIT, the University of Manchester, and the UK Academic Peer Learning Group.
PASS/PAL, also known as Supplemental Instruction (SI), was developed by Dr Deanna Martin in 1973 at the University of Missouri, Kansas City. Since 1981, it has been continually recognised by the US Department for Education as one of the few post-secondary 'Exemplary Educational Programs'. PASS/PAL/SI programmes, facilitated by trained SI Supervisors, operate in a number of universities and institutions worldwide. The European Centre for PASS/ PAL is situated in the University of Lund, Sweden.
For more information on the PASS PAL Conference visit http://studentengagement.cit.ie/pals.PASSPALconference17