Exhibition > IN FLUX // FREQUENCIES + CONNECTIONS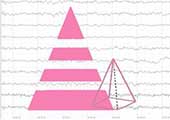 Published on: Sunday, 12 November 2017
CIT Arts Office STEAM Award Exhibition 2017
James Barry Exhibition Centre, CIT Bishopstown Campus

Exhibition opening 9th Nov 6pm - 8pm.
Opening speech by Trish Brennan, Head of the CCAD Department of Fine Art & Applied Art, at 7pm
Exhibition will run 9th - 23rd November

About the Award
Every year, CIT Arts Office presents this award to one or two artists at the CIT Crawford College of Art & Design Fine Art Degree Show whose work responds to or investigates scientific themes, processes, or methodologies, in new and innovative format.
The recipients are also invited to show their work in an exhibition at the James Barry Exhibition Centre, with a supporting programme presented as part of CIT Science Week, supported by CIT's Science for Life office, and the Department of Physical Sciences.
The award and the exhibition gives a platform to different perspectives and inquisitive processes, highlighting the relationship between art, science, technology, engineering, and maths.
This selection was made in collaboration with Dr Joe Connell, Head of CIT's Department of Electrical & Electronic engineering.
Recipients
Liudmila Kalinka
Her work is heavily influenced by scientific discussions about the connections between learning activity and the development of the brain. Research over the past years has shown that certain regions of the adult brain can generate new neurons and new synapses. Therefore adults can keep growing their brain and protect cognitive functioning as they age, while reduced cognitive function can age us prematurely and reduce life expectancy. The work explores cognitive development during the learning process.
The installation is based on the analysis of personal data obtained by self-tracking and recording selected study activities and time spent on each of them. Graphs and maps present how brain develops during the period of time while undertaking certain tasks. The chosen learning activities are indicated using different colours. The colour orange is used to represent reading, green for writing, pink for listening, blue for making, plum for using a computer and light-blue colour represent time away from those activities. The work is aimed to represent the connections between learning activity and the development of the brain. It also seeks to create a greater understanding of how learning can develop new connections between neurons, which help offset brain cell loss due to aging or disease.

Shane Power
"There is a vision throughout my work to explore a hidden and underlying beauty in rhythmical, mathematical and scientific data.
My work explores structures and systems of physics and sound. Using a unique approach to processes, my work attempts to capture imagery from the manipulation of energies, frequencies and sound. The resulting pieces attempt to highlight moments in which perceptual information deconstructs and opens up into new poetic possibilities.
Born out of the culmination of research into mathematics in nature and a unique adaptation of cymatic process, the artist presents 6 unique images made from the capture of vibrational sine waves. The visual representations of these particular frequencies were captured in a cameraless photograph on fibre-based paper and developed by hand. The frequencies selected are from a scale known as the solfeggio scale. A scale which divides the scientists and the spiritualists, some believing the scale to be nothing more than a mix up of archetypal representations with human conventions. Others believe the scales frequencies to have ethereal qualities in healing and harmony. In the work 'solfége, cymatica', these photograms are presented with their equivalent stimulant frequencies in an attempt to explore supposed ethereal and sacred qualities of the scale. By creating an immersive environment around the pieces the artist pushes to blur the boundaries between mathematics, nature and science."