CIT launches Entrepreneurship Strategy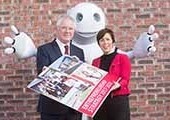 Published on: Thursday, 23 November 2017
CIT has launched its first ever Entrepreneurship Strategy and it is one of the first Higher Education Institutes (HEI) in the country to publish an organisation wide strategy focussing on entrepreneurship.

CIT's Entrepreneurship mission is to INSPIRE, SUPPORT, EDUCATE, and RESEARCH current and future entrepreneurs and entrepreneurship activity. The vision is to produce entrepreneurial graduates across all disciplines and be a key player in job creation for the region. Entrepreneurial skills are highly sought after by employers and CIT now offers students the opportunity to develop their entrepreneurial skills and start their own businesses on campus. Many students see starting their own business as a viable employment option during their studies and upon graduation. 5.8% of 2016 graduates describe themselves as self-employed in the first destinations survey of graduates.

Participation of academic and administration staff is key to achieving CIT's goals in this space. CIT is fortunate to have an active Accelerating Campus Entrepreneurship committee (ACE) comprised of 35 staff members from across all disciplines and from all CIT campus locations throughout the city and county.

2017 marks the 20th year of entrepreneurial programmes for CIT with the intake of the latest group of participants on the Enterprise Ireland funded New Frontiers programme. Last year, CIT celebrated the 10th anniversary of the Rubicon Centre, its purpose built, on campus, business incubation centre. Over that period 896 jobs were created by Rubicon companies with €52.5 million raised through public and private investment. Creating spinouts from CIT's research base is an important form of knowledge transfer and means of delivering impact. CIT's award winning spin outs are at an early stage and employ over 20 staff. CIT spinout AventaMed secured €1.8 million investment which includes €1.6 million angel funding, the largest single HBAN angel investment to date. CIT established the Hincks Centre for Entrepreneurship Excellence in 2013, its aim is to promote and provide entrepreneurship training, research, and education, and to foster the entrepreneurial mind-set among CIT's students, staff, partners, and stakeholders. The Centre is a partner and leads on a number of National and European research projects in Female Entrepreneurship, Senior Entrepreneurship, Marine/Sailing Tourism Development, Business Mentoring in the Green/Sustainable sector, and entrepreneurship education.

Speaking about the Entrepreneurship Strategy, CIT's President Dr Barry O'Connor said, "CIT is now one of the largest third level education providers in the country with a strong research and industry focus, ensuring students emerge as work ready graduates who can add value to organisations, the region and society. This strategy sets out a number of goals and actions that will have a direct impact on undergraduate skills and job creation in the region."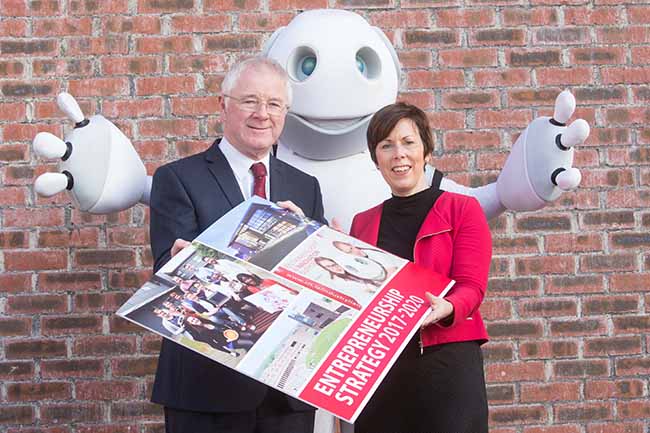 Dr Barry O'Connor, President, CIT, and Orla Flynn, Vice President for External Affairs, CIT, at the launch of CIT's first ever Entrepreneurship Strategy.
| | |
| --- | --- |
| Copies of the strategy are available through the CIT Innovation and Enterprise office tel 021 4335094 or you can download using the link below | |