Documentary Showcase and Discussion at the Rory Gallagher Theatre, CIT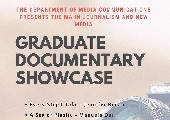 Published on: Wednesday, 22 November 2017
CIT's Rory Gallagher Theatre will showcase three documentaries by graduates of the Department of Media Communications' MA in Journalism with New Media programme at 1PM this Friday, November 24th.
The three films are Every Step I Take by Jennifer Regan, A Sea of Plastic by Manuela Dei Grandi and Re-Joyce – Poetry in Modern Ireland by Ryan Grace.
A Sea of Plastic explores the global issue of plastic pollution in our seas from the local perspective of a small community in the south west coast of Ireland: its causes, impacts and possible solutions. The ocean, a source of life to many species, is threatened by society's addiction to disposable plastic.
Every Step I Take tells the story of spinal cord injury survivor Nathan Kirwan from Currabinny, Co. Cork and his use of Lazarus, the Eksobionic suit at the Elite Gym in Cork. The film follows www.helpfulsteps.ie, a charity set up by Nathan and gym owner Colin O'Shaughnessy, as they try to raise the €150,000 needed to keep this ground-breaking wearable technology in a mainstream environment like the gym so that it is easily accessible to those with limited mobility.
For Re-Joyce - Poetry in Modern Ireland, Ryan Grace travelled around the country to talk to poetry groups. The concept behind the documentary is to explore the poetry scene of modern Ireland, and contextualise how this weapon is being used in the 21st century.
The screening will be followed by a talk by John Driedonks and Brian Maston, senior lecturers at the Hogeschool Utrecht (HU) in the Netherlands.
Their talk will cover their documentary making programme at HU and the CampusDoc student film festival, which they established in 2010. They will also discuss how to develop and create documentaries, from crowdfunding to the filming process.
The Documentary Showcase is presented by the Department of Media Communications, with the support of CIT Arts Office.
Those who are interested in documentary/film making are encouraged to attend the talks.