Work Commences at CIT on Phos4You Project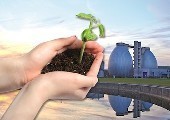 Published on: Tuesday, 23 January 2018
Work has begun in Cork Institute of Technology (CIT) on the European-funded Phos4You project, with the overall aim of recovering and recycling phosphorous from wastewater.
The Phos4You project is funded by the Interreg North-West Europe Programme, with a total budget of €11 million. It involves collaboration with partners from a number of European countries, including Belgium, France, Germany, Ireland, the Netherlands, Scotland and Switzerland.
Phos4You was developed in response to concerns that global phosphorus reserves could run out within a century. Phosphorous is a finite natural resource and it is an essential nutrient required to sustain life. There is no artificial alternative to phosphorous.
The majority of phosphorous consumed within Europe is imported, and phosphate rock was added to the EU's list of critical raw materials in 2014, followed by white phosphorous in 2017. The long-term objective of Phos4You is to guarantee feed and food security in Europe by reducing the EU's dependence from imported phosphate rock.
Phos4You targets phosphorus recovery from municipal wastewater treatment plants. The CIT team, led by Dr Joe Harrington, Head of the School of Building and Civil Engineering, are working with other universities and commercial partners on the development of phosphorous recovery technologies, which will be optimised and demonstrated in Ireland. CIT will also be responsible for carrying out crop trials and analysis of the extracted material.
CIT will also have a role in addressing the social acceptance of the sustainable recycled product, which will include engaging with key stakeholders in the Irish wastewater, fertilizer, and farming industries.
The project is a boon to CIT's sustainability portfolio, which also includes the upcoming 28th Irish Environmental Researchers Colloquium (Environ 2018) scheduled to be hosted by CIT and held on the Bishopstown campus from March 26th to 28th, 2018.
Speaking about the Phos4You project, Dr Harrington said, "We in CIT are excited to be involved in the Phos4You Project which addresses the important issue of phosphorous recovery in an Irish, and broader European, context. The project has many different strands and includes the application of state of the art technologies for phosphorous recovery contributing to the sustainable use of a finite resource and closing the P cycle."
The project is scheduled to run until 2020. Further information can be found at the Phos4You website.