CIT-CAPPA Researcher contributes to photonics materials breakthrough with potential for significantly faster internet speeds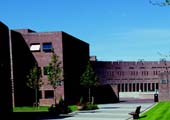 Published on: Tuesday, 13 February 2018
Congratulations to Dr. Sebastian Schulz, a postdoctoral researcher in CIT's Centre for Advanced Photonics & Process Analysis (CAPPA), who was a key member of a team of researchers which recently published details of a new artificial material in the Nature Photonics journal.
The metamaterial combines tiny metallic antennae with a transparent conductor called Indium Tin Oxide in a layer just 50 nanometres thick (about 200 times thinner than a human hair). The custom-made material exhibits much stronger non-linear optical response than natural materials, over an extremely short timescale. Crucially, this new material demonstrated a refractive index change of 2.5, which is 3 orders of magnitude greater than typical values of ~0.001.
Nonlinear optical effects are of great interest for internet communications, as they enable a wide range of ways to manipulate light, such as changing it's colour or direction (optical switching) or even altering it's speed, all on an extremely rapid timescale. Unfortunately, due to the typically very weak non-linear response of most materials, these techniques have rarely been used in commercial applications. The new material, however, opens the possibility for practical realisation of such methods, paving the way for a faster and more power-efficient internet.
The research was performed in conjunction with the group of Prof. Robert Boyd at the University of Ottawa, Canada (including Mr. Zahirul Alam and Dr. Jeremy Upham) and Prof. Israel De Leon at Technologico de Monterrey, Mexico. Dr. Schulz is co-located between the CREATE building on Bishopstown campus and the Tyndall National Institute.
The discovery has received extensive coverage in the media including the Irish Times and Silicon Republic: