Exhibition of Paintings by Geoff Steiner-Scott at CIT Cork School of Music 8th-25th May 2018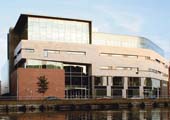 Published on: Thursday, 19 April 2018
The artist and retired Principal of the CIT Crawford College of Art & Design, Geoff Steiner-Scott, will be showing his recent paintings in an exhibition at the CIT Cork School of Music, Union Quay, Cork, opening on Monday, 8th May 2018.
This exhibition will show new work made by Mr. Steiner-Scott since his last show in Cork in 2010. The paintings are colourful abstracts, modestly priced. As he says, "I paint for pleasure, not for profit, for enjoyment".
Geoff's first exhibition in Ireland was at the Project Arts Centre, Dublin, in 1975, when he was a lecturer in Printmaking at the National College of Art & Design. He subsequently moved to Cork, where served as Principal of the Crawford College of Art & Design from 1984 until his retirement in 2007.
The exhibition will be in the attractive foyer of the CIT Cork School of Music in Union Quay. The School of Music continues to serve the city with a busy schedule of exhibitions in this beautiful and easily accessible building. The exhibitions are open to the public and admission is free.
The GEOFF STEINER-SCOTT exhibition runs from 8-25 May, inclusive. Opening hours are Monday-Friday 8.30 am to 10.00 pm, Saturday & Sunday 9.00 am to 5.00 pm.
For further information, contact Geoff Steiner-Scott at 087-2222976 or by email at geoff.steiner-scott@cit.ie