Art Textile Special Purpose Award Graduate Show 2018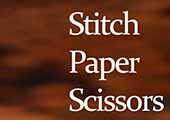 Published on: Tuesday, 05 June 2018
Art Textile Special Purpose Award Graduate Show 2018
The Gallery at No. 46 Grand Parade
Opening Wednesday 13th June, at 6pm
Exhibition Opening hours:
Monday to Thursday 10am – 6pm
Friday and Saturday 10 – 5 p.m.

The exhibition will close Wednesday 20th June @ noon
- - - - - - - - - - - - - - - - - - - - - - - - - - - - - - - - - - - - - - - - - - - - - - - -
Exploring a range of themes including ideas about home, protection, memory, communication and childhood, the graduates of CIT Crawford College of Art and Design Art Textile Special Purpose Award have put together an exciting body of work which will go on display in The Gallery at No 46 on Wednesday 13th June.

Using materials such as paper, felt, and wire these students investigated a broad range of themes and ideas impacting our modern lives. Non-verbal communication within autism, emigration, the erosion of normal childhood experiences by technology, nature, science and spirituality, and the concept of home and human nature have all been developed into an exhibition of exciting and eclectic art.

Techniques such as felt, wire sculpture, paper-making, weave, stitch, and eco-dyeing have been exploited to their fullest extent in the development of these themes and ideas.

The graduate students are Catherine Coutin, Bernie Hennessy, Sally Hewetson, Marge Kiniry, Pauline Kiernan, and Fiona Ladden Loughlin.

Trish Brennan, Head of Department of Fine Art & Applied Art will open the Exhibition, and all are welcome.
On Saturday 16th June, artists will talk about their work (1pm to 2pm) in the Gallery – no booking is required.

CIT Crawford School of Art and Design is inviting applications for the new Art Textile Special Purpose Award which is a part-time course, commencing in September 2018. For further information on this course please contact Pamela.Hardesty@cit.ie. For more information, please visit www.crawfordfinearttextiles.wordpress.com
Marge Kiniry Sally Hewetson
Bernie Hennessy