CIT Offers Springboard+ Funded Courses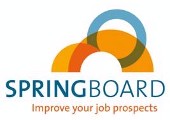 Published on: Wednesday, 13 June 2018
Cork Institute of Technology (CIT) is delighted to offer Springboard funded* courses under the Springboard+ Initiative. Courses available include Cloud Computing, Data Science and Analytics, as well as courses in Automation & Control, Biopharmaceutical Supply Chain Management, Cleanroom Manufacturing Practices, Biotechnological Manufacturing Operations, Validation Science, Information Design & Development and Capital Markets.
These courses are designed and developed in close collaboration with industry partners, provide a dynamic pipeline of job-ready graduates, with up-to-the-minute skills, and valuable qualifications, for sectors of the Irish economy that are expanding and recruiting.
Springboard+ provides free higher education courses in areas of identified skills needs to unemployed people, those previously self-employed and those returning to work. Courses will also be free for employed people on NFQ Level 6 courses. For employed participants on courses NFQ level 7 – 9, 90% of the course fee will be funded by the Government, with participants required to contribute just 10% of the fee.
Now in its eighth year, over €161m has been allocated to Springboard+ providing for over 47,000 free higher education places, primarily to jobseekers in need of upskilling or reskilling to allow them to re-enter the labour market.
Dr Orla Flynn, Vice President for External Affairs at CIT stated that "CIT has an excellent record of delivering work-relevant programmes under the Springboard initiative, enabling many learners to re-engage with education, gain new skills and find employment. Our offerings for 2018 are drawn from key areas of strength in CIT such as manufacturing, engineering, data analytics and cloud computing. We look forward to welcoming new Springboard students to CIT later this year and at the same time connecting them to relevant industry partners".
*Details on available courses, eligibility and the application process are available at www.springboardcourses.ie