Cormac Gebruers Appointed Head of College at the National Maritime College of Ireland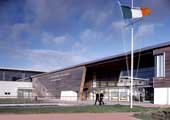 Published on: Tuesday, 19 June 2018
Cormac began his career as a deck officer in the merchant navy, graduating from Cork RTC (subsequently CIT) in 1993. He completed a BSc (Hons) in Computer Science programme in UCC. After a period working as Chief Technical Officer and as a director with an early Cork RTC spin-out company, he spent four years in computer science research in Science Foundation Ireland's first major centre, the Cork Constraint Computation Centre.
Before joining the NMCI in 2012 as its Research & Innovation Manager, Cormac spent seven years with Transas, a multinational organisation focussed on maritime navigation systems, where he held the post of Deputy Unit Director. In this role, he worked extensively around the world, spending a one-year period in China. Cormac represented Transas at the International Maritime Organisation and on United States Coast Guard technical committees.
In addition to his work at the NMCI, Cormac is also a member of the CIT Research Ethics Committee and the CIT School of Graduate Studies Steering Committee, and he is involved with the Athena Swan initiative. Cormac is CIT's representative on the Marine Research Advisory Group and is a member of a team that represents Ireland at the European Waterborne Technology Platform and the European Technology Platform for Logistics. From 2012 until 2017, Cormac was a member of the Spike Island Steering Committee which supported the Island's successful development into an international visitor attraction.