World Record to be set for the furthest maritime broadband transmission without a satellite or cellular network using SeaFi wireless maritime communication system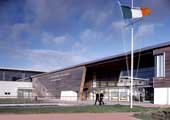 Published on: Thursday, 26 July 2018
A scientific experiment, conducted by SEA-Tech a Cork based SME under the control of a group of reputable witnesses composed of maritime professionnals and researchers is set to enter the record books. The purpose of the experiment was to set a world record for the furthest maritime broadband transmission without a satellite or cellular network using SeaFi wireless maritime communication system. Academic staff from Cork Institute of Technology (CIT) the National Maritime College of Ireland (NMCI) and University College Dublin (UCD) were actively involved as the reputable expert witnesses.
Dr Sean McSweeney, Lecturer in the Department of Computer Science in CIT and Sean O'Callaghan (NMCI), were tasked to conduct a thorough inspection at Roches Point Lighthouse SeaFi coastal station. Their experience, both as lecturer and system administrator, helped in establishing the fact that the lighthouse and the ship that would take part in the experiment were not connected to each other with any other system but a wireless radio link. Immediately after the inspection, the lighthouse was closed and keys kept by the Commissioners of Irish Lights when Prof Frederic Dias (Mathematician UCD) witnessing the operations in Roches Point Lighthouse, would take up position in the lighthouse with SeaFi coastal operator, Theophile Buyssens from France. Prof Frederic Dias' role consisted of calculating distance in realtime between stations. Port of Cork Marine Engineer Steve Hogan, was assisting on board Ocean Sprey to ensure all ran smoothly. Steve is also desigining a system for cranes to interface with SeaFi.
Karle Grabe, Lecturer in the Department of Computer Science in CIT, and Capt Bill Kavanagh from NMCI, inspected SeaFi ship station on board OSV Ocean Spey in Ringaskiddy Deep Water Berth prior to departure. Their expertise in ICT and Nautical Science combined together guaranteed the results. Bill Kavanagh is a former sea captain (Emerald Isle Marine), nautical instructor and Head of Regional Fisheries, needless to say a well seasoned seaman who knows his way around a ship. Assisting Karl Grab, a software development expert and a yachting enthusiast, both men inspected the bridge and the mast of the ship to search for any trace of connectivity other than SeaFi radio link before leaving the ship under the watchfull eye of CIT graduate, Capt Mark Sloan and Chief Officer James Darwin.
SeaFi facilitates the creation of private telecommunication networks in ports and coastal areas by establishing connection between lighthouses, maritime wind turbines, or offshore drilling platforms and vessels at sea. These networks are used to connect the ships and their crews, as well as the data collection buoys (weather, tides...) for example. SeaFI is a radio system on the frequency band of 2.4 GigaHertz which works a little like Marconi's telegraph system, using coastal stations (connection points) and embarked stations at sea. The key to the system is a bespoke ship antenna, which transmits wirelessly, and securely, over a private wireless network to special receiving shore antennas, one of which is attached to the Roche's Point lighthouse "to put it simply, WiFi is more like a bare light bulb while SeaFi is more like a focused flashlight" says SEA-Tech.
The SeaFi ship station operator was Arnaud Disant, Marine Data Communications Lecturer in NMCI and Marine ICT Engineer working with Port of Cork, Port of Waterford and Rosslare Europort. For the past decade Arnaud Disant has been involved into the development of SeaFi working with maritime professionnals, pilots and the Irish Naval Service.
Four bells in the afternoon watch, the ship left port at 14.00hrs. Expert witnesses from CIT, NMCI and UCD were in contact by email with the ship station operator. For several hours the Offshore Supply Vessel, owned by Mainport, had set course south of Roches Point Lighthouse in Cork Harbour. Each 15 minutes both operators in Roches Point, and on the bridge, kept running tests such as sending emails to the expert witnesses and making Skype calls. Emails leave traces when sent, expert witnesses Sean O'Callaghan, Carl Grabe and Dr Sean McSweeney would also confirm the emails originated from SeaFi ship station. Each email sent to shore, from the ship, was delivered without sattelite or cellular connection. Once designed to guide ships into ports, lighthouses could be refitted to enter the digital era of marine big data.
At exactly 16:31hrs Roches Point issued one last message to the ship station, at 16:32hrs SeaFi ship station (code name Gemini) had gone silent after two and a half hours of uninterupted transmission. OSV Ocean Spey was spotted on INS vessel LÉ James Joyce patrolling south west of Ocean Spey position. Prof Frederic Dias posted on Twitter the results of his calculation and was immediately echoed by expert witness, Lt Commander Brett, Commanding Officer of LÉ James Joyce reporting the position of Ocean Spey at Lat 51 30.05N Long 008 03.70W – 19.4 nautical miles from Roches Point (35.9 kilometres) at the time the last transmission was made. Evidence of the record have been sent to the Guinness World Book of Records for homologation. The submission was suported by each individual independent expert witness.
Arnaud Disant, the engineer who invented SeaFi said "SeaFi could put Ireland on the forefront of modern maritime technology."It's no doubt, this episode will be followed by many others, SeaFi is already attracting curriosity in The Netherlands, France, Italy, US and from as far away as Chile. Beyond the achievement itself, for an island nation, it's a vivid example of academic staff teaming up actively together to support the research of a local SME.