Changes to Traffic Flow in Cork City Centre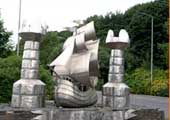 Published on: Thursday, 09 August 2018
From Thursday, August 9, private vehicles and trucks will be rerouted from St Patrick's Street between the hours of 3.00pm to 6.30pm. Instead buses, taxis, emergency vehicles, pedestrians and cyclists will be given priority along this city centre corridor.
These changes to traffic flow are due to exciting developments in Cork city. The city centre will soon have over 10,000 new jobs, 5,000 alone over the next three years. However, our traffic management and public transport system must be updated if we are to keep the city and its growing workforce moving.
A number of supporting measures will accompany the reintroduction of the bus prioritisation and should make the changes easier for those who live, work and visit the city centre.
These include:
A network of 26 free fifteen minute set down parking spaces along South Mall, Grand Parade, Parnell Place, Drawbridge & Cornmarket Street to facilitate shoppers and visitors.
From 9th August, half price parking will be offered at Paul Street and North Main Street Car Parks from 1pm to 6.30pm every day.
The opening hours of the City's Black Ash Park & Ride service will be extended to operate from 7am to 8pm.
The Black Ash Park & Ride will be free of charge from 12 noon Monday to Saturday.
The extension of the Black Ash Park & Ride service into the city centre with additional stops at Eglinton Street, Merchants Quay, St. Patrick's Street, Grand Parade, South Mall and Angelsea Street. For more information on this click here .
Reduced bus fares will be available from 9th August. With your Leap Card, you can travel for as little as one euro across the red zone, see more in the image below.
Passengers on the northbound 203 and 215 buses will also be stopping on St. Patrick's Street for the first time.