Minister Jim Daly opens new Water Quality & Innovation Lab in Bandon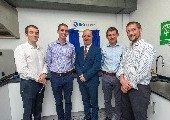 Published on: Thursday, 23 August 2018
The Minister was joined by a guest panel including Donagh O'Mahony, Head of Physical Sciences Dept CIT and Kevin Fitzgibbon, Head of Water Innovation at the Nimbus Centre.
Minister of State of the Dept of Health Jim Daly officially opened the new laboratory of H2Olabcheck on 22nd August in Bandon. www.H2Olabcheck.com is a new online marketplace for laboratory water testing. Individuals and organisations use this new ecommerce website to have their water analysed at their nearest H2Olabcheck laboratory. Their broad customer base ranges from home owners to hotels, farmers, care homes, builders, food producers, factories and many more requiring accredited testing.
This disruptive technology is the creation of Bandon brothers Aidan and William Holland. Their parent company and funding source, Acorn Water Ltd founded by their parents, Bill & Eileen have been providing laboratory testing for over 20 years and the two young brothers have drawn on this experience to develop the new platform since 2014.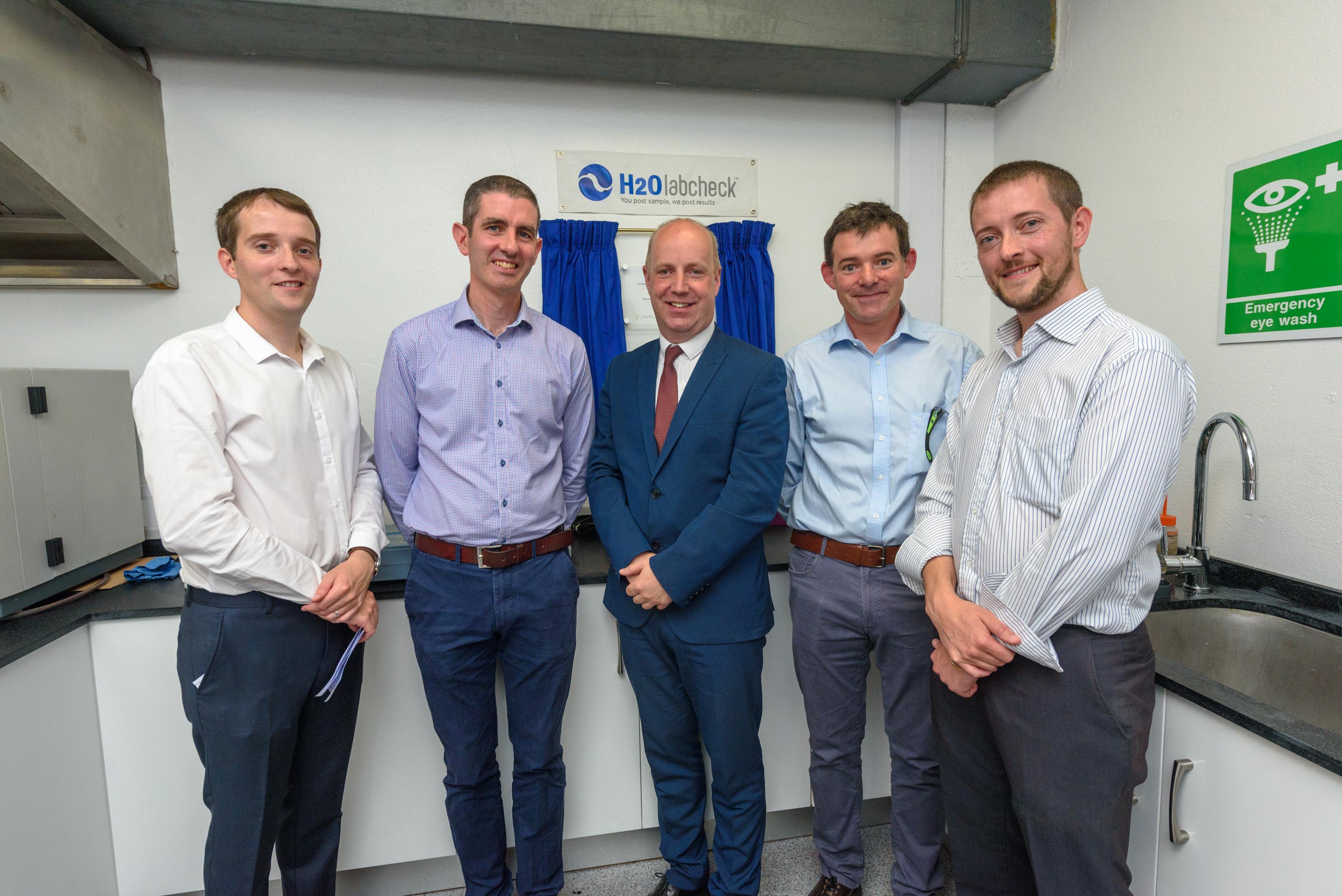 'Launched in January, the past 6 months have seen a doubling of growth on the same period in 2017. We are hugely encouraged and look forward to building on what we have achieved.' said Aidan Holland, co-founder of H2Olabcheck.
With a modern design, their lab is a spacious environment with large windows and testing instruments include a GC-MS, Purge & Trap and an Atomic Absorption Flame.
Co-founder and CIT Engineering graduate, William says: "We've entered our next phase of growth. We've started the process of on-boarding new partner labs and expanding our network. R&D will continue to be our priority and we are very proud here today of our association with CIT, Nimbus Centre and UCC and look forward to working more with them on current and future projects."
Their lab team includes laboratory manager Frank Mullins and CIT intern Gráinne Collins. Both lab members have studied Pharmaceutical Biotechnology in CIT. Frank told visitors that "Working with H2Olabcheck has been a wonderful experience. I have thoroughly enjoyed using my own laboratory testing experience to help design and build the H2Olabcheck platform and supporting LIMS."
Guest speaker Donagh O'Mahony, Head of Physical Sciences Dept CIT said "It's great to see a local company doing chemistry and science to an advanced level and we see an opportunity to work more closely with companies like H2Olabcheck. Our Environmental Science & Sustainable Technology is primarily focused on air and water quality analysis and we see water analysis as being a huge growth area from both an industrial and scientific perspective". The guest panel also included Stephen Collins, Senior Technical Officer in Dept of Physical Sciences CIT, Kevin Fitzgibbon, Head of Water Innovation at the Nimbus Centre and Dr Eoin Byrne, Senior Researcher of the Nimbus Centre.
In his speech, Minister Daly said, "I am delighted to open this significant expansion to the very well-known Acorn brand. Over recent months, the country has come to realise just how much we rely on running water to homes and businesses across the island. Of course it's not just any old water that is needed, we need good quality water to protect public health and Aidan and William are forging the way ahead to ensure good water quality is received to homes and businesses, not just in Ireland but across the globe. The ease with which a customer can order their testing pack, and receive results back is remarkable."
Aidan says "we plan to double our workforce in the next 12 months and are currently looking for people in the areas of UI/UX Development, Content Creation, Environmental Science, International Marketing, Finance, and Sales."