PhD student Jude Ajuebor publishes research on the use of phages and phage endolysins for the elimination of MRSA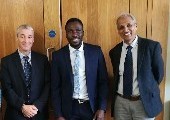 Published on: Tuesday, 25 September 2018
CIT PhD student Jude Ajuebor discovers the use of phages and phage endolysins for the elimination of MRSA.
Having been awarded a fee-waiver to join the research group of Professor Aidan Coffey as a doctoral student, he excelled in his research where he recently defended his PhD at Cork Institute of Technology to an external examiner from Oxford University.
His research included collaboration with the Royal College of Surgeons and with Bath University, UK.
Originally from Nigeria, he first moved to Ireland in 2007 to join his brother and mother who had been naturalized ten years earlier.
On settling in Cork, he joined the Leaving Certificate class in Douglas Community School, taking Honours subjects in Maths, English, the three Sciences amongst others.
Following this, he went on to St John's Central College to do the 1-year Applied Science course, where his work placement in early 2009 first brought him to Cork Institute of Technology on Bishopstown Campus.
Here, he assisted the technicians in the Department of Biological Sciences setting up the laboratory practicals in microbiology, biochemistry, bioanalytical science and more.
While on placement at CIT, he developed a passion for the material being taught to the undergraduate students and enrolled for the Pharmaceutical Biotechnology BSc course for the following September.
He graduated in 2013 with an honours BSc degree, having obtained first class honours at the end of each of the four years of the course.
During his final year, he then had the initiative to apply for a CIT Risam fellowship to undertake postgraduate studies at the Institute.
His academic background and further PhD research have begun to develop his career in the biopharmaceutical industry.