Conor Considine makes presentation to Dr. Frank Riedewald of Composite Recycling Ltd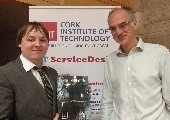 Published on: Thursday, 27 September 2018
Dr. Frank Riedewald of Composite Recycling Ltd., based at Cork Institute of Technology gave a lecture on Tuesday the 25th of September about the new process he developed for recycling tyres entitled, "New Recovery Process for Waste Tyres and Waste Electronics."
Dr. Riedewalds new process includes dropping full tyres into a bed of molten zinc into a nitrogen atmosphere followed by the vaporisation of oils which are then recovered in a condenser.
The novel process now includes drawing carbon black floats on the zinc using a vacuum while the steel wires in the tyres sink slide down past a u-bend where they are then withdrawn from the zinc.
These concepts were then explained further by Dr. Riedewalds during his lecture.
Photographs of garage-scale rig used to prove proof of concept were also shown - while blow torches were used to heat a 2m high 1m diameter stainless steel tank.
1.5 billion tyres are scrapped each year worldwide - so this process has huge economic potential and should significantly reduce pollution.
While a similar process can also be used to recover metals from printed circuit boards.
Dr. Riedewald summarised his lecture with a brief overview of the total scale of pollution and opportunities available for applying this technology to printed circuit boards and also for plastics.